The Delaware Art Museum has announced the inaugural year of the Distinguished Artist Series-a core part of the Museum's strategic vision to highlight local artists and welcome diverse audiences. This new program celebrates artists who have-for fifty years or more-impacted contemporary art in the greater Wilmington area through their artistic practices, teaching, and support for the community and its various institutions. Through unique exhibitions and associated programming, the series will examine these artists' legacies as they relate to local, national, and international artistic trends.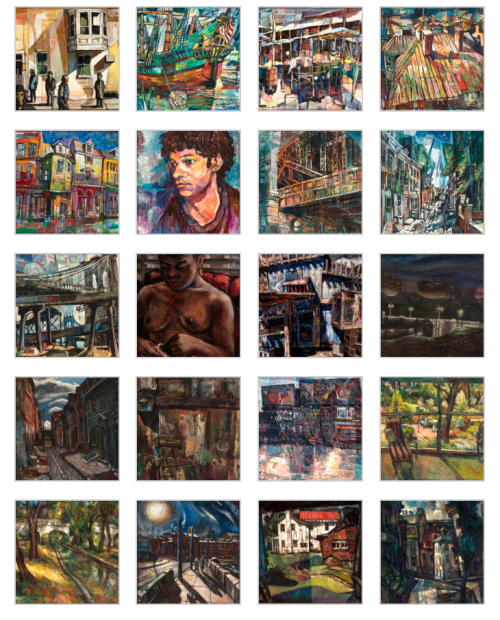 The Lopers on Film
Gallery 9
March 23-May 12, 2019
The Loper Tradition: Paintings by Edward Loper, Sr. and Edward Loper, Jr.
Galleries 11 and 12: Ammon Memorial Galleries
Select works will be on view in
Galleries 15 and 16: The Lynn Herrick Sharp Galleries and Gallery 17
March 23–August 4, 2019
Edward Loper, Sr., one of Delaware's most celebrated artists, lived his life in Delaware and taught generations of local artists. His son, Edward Loper, Jr. was equally productive as the former head of the Visual Arts department at Christina Cultural Arts Center. Their styles are unique to their own personalities, yet still share the modernist traditions from the turn of the 20th century.
"The community and my family are very excited that this exhibition is taking place. It's long overdue," says Jamie Loper, son of Edward Loper, Jr. "Spending the last two years really learning about my father's and grandfather's art has awakened a hopefulness in me... We can look at a broken-down house and might feel sad or depressed. But they can take these subjects and scenes and reintroduce them to us in celebration so that they can be seen as beautiful."
With the impact the Loper family had on contemporary art and the Greater Wilmington community, it seems only fitting for the art museum to develop  programming dedicated to The Loper Tradition:
3/23 (2 p.m.) Book signing by Marilyn A. Bauman, author of Edward L. Loper, Sr.: The Prophet of Color. Bauman also contributed to the catalog accompanying the exhibition.
3/24 (2 p.m.) A Life in Painting with Edward Loper, Jr. Edward Loper, Jr. shares his memories of people, places, and his life in Wilmington through his paintings on view in The Loper tradition: Paintings by Edward Loper Sr. and Edward Loper, Jr.
3/31, 4/7, 5/5 (11 a.m.) Local community members taught by Edward Loper, Sr. will share their stories and memories of the artist and his works.
4/9 – 5/28 (6 p.m.) Painting in the Loper Tradition with Thomas Del Porte
6/27 (5 p.m.)   Friends of Loper Happy Hour and Conversation (curatorial talk 6:30 p.m.) Join us for drinks on the terrace and then join Contemporary Art Curator Margaret Winslow, scholar Dr. Leslie Wingard, and supporters of the Loper Tradition who will discuss the paintings by both artists, Edward Loper Sr. and Edward Loper, Jr., on view in the exhibition.
Make it a Weekend Getaway and Check Out More Amazing Wilmington Museums!
Founded in 1912, the Delaware Art Museum is best known for its large collection of British Pre-Raphaelite art, illustrations by Wilmington native Howard Pyle, and urban landscapes by John Sloan and his circle. Now you can see the Distinguished Artists collection as well featuring multiple artists from right here in Delaware. Another artist on display is Mitch Lyons, his collection "The Hand Translated" will be featured in Galleries 11 and 12: Ammon Memorial Galleries from September to February 2020. The distinguished artist series is just getting started. Learn more about the mission of the Delaware Art Museum and even more on their newest exhibit - here. 
While you're in town, check out all that Wilmington and the Brandywine Valley have to offer. Check out our digital Visitor's Guide for more information on all of the adventures that await when you #VisitWilm!