Ready to take a trip off the beaten path? There's really nothing like a leisurely drive through the back roads of the Brandywine Valley. The scenery is gorgeous at any time of the year. And – here's a little-known fact – our region is home to three covered bridges, each with their own unique history. The short route we have pulled together (you can cover it in an afternoon) will take you through all three bridges with stops along the way at hidden treasures that, up until this point, were only known by us locals and a small group of seasoned Delaware adventurers.
Start your road trip at the HOTEL DU PONT in downtown Wilmington. An internationally renowned hotel, it has hosted the likes of Katherine Hepburn, Ingrid Bergman, Elizabeth Taylor, Bob Hope, Joe DiMaggio, Duke Ellington, and President John F. Kennedy since its opening in 1913.
Stop into Spark'd - run by the HOTEL DU PONT bake shop - in the upmarket DE.CO food court, a block up on your right from the hotel for some of its famed macaroons and La Colombe coffee to go.
Head north on Route 52 into Greenville, passing the Greenville Crossing Shopping Center on your right and Powder Mill Square on your left. If you want to make a pit stop at this upscale shopping and dining enclave before heading off on your tour, you won't be disappointed. Also consider stopping into Janssen's Fine Foods and Café (in Greenville Crossing) to pick up some yummy sandwiches and sides for the road. There will be numerous opportunities for a picnic along the way.
From the shopping center, continue on Route 52 to the second light, and make a left onto Campbell Road. Not far down the road on your left, you will come to Valley Garden Park. This lovely little park - not even known to most Delawareans - features paved walking trails set amid a shallow river landscaped with miniature waterfalls. It is one of our favorite picnic spots.
Continue down Campbell Road, crossing over the picturesque and much photographed Hoopes Reservoir. All along the way, you'll pass the mansions and estates of Wilmington's movers and shakers and the gentried set.
At the "T" in the road, make a left onto Pyles Ford Road. As you traverse this curvy, wooded, meandering road, notice the railroad tracks to your left. This is the route of the Wilmington and Western Railroad. The railroad offers tours through the scenic Red Clay Valley on historic steam- and diesel-powered trains. It's one of the best ways to see our area!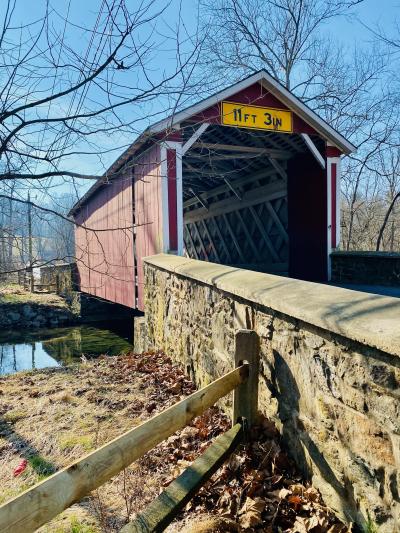 Make a sharp left onto Barley Mill Road, part of Delaware's Red Clay Creek Scenic Byway system. Travel a short distance down the road to Ashland Covered Bridge. This one lane, lattice truss bridge has been standing since 1860, making it the oldest original covered bridge in Delaware.
Continue down Barley Mill Road, making a right onto Creek Road which follows the Red Clay Creek. Soon, you will come to Ashland Nature Center on your right. This is another nice spot for some light hiking and a picnic.
A bit farther down on Barley Mill Road, on your left, is Mt. Cuba Center. Voted "Best Botanical Garden" in the 2020 USA Today 10Best Reader's Choice Awards, these naturalistic gardens and former du Pont mansion (open April through mid-November) are well worth a stop to explore.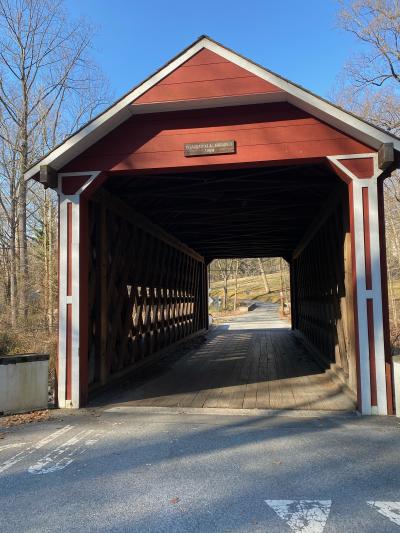 After passing Mt. Cuba, take a right on West Rolling Mill Road then another right onto Fox Hill Lane. This will take you through the Wooddale Covered Bridge, only two and a half miles from the Ashland Covered Bridge. While the original bridge was built ten years before the Ashland one, it was destroyed in a storm in 2003 and rebuilt. On the other side of the bridge is the small, historic community of Wooddale. It was once home to a post office, church, school, general store, hotel, and a train station. Today, only a few historic homes remain.
Make a U-turn on the left just after you cross through the bridge, and make a right onto Barley Mill Road, heading back the way you came. Make a left onto Centreville Road, passing Hoopes Reservoir on your left.
Make a left on Campbell Road, heading back the way you came. Look out for Owl's Nest Road and make a right then another right onto Pyles Ford Road.
Cross over Old Kennett Pike and then make your next left onto Route 52. Here, you have the option of continuing straight a few miles to the historic one-road village of Centreville. If you make a stop here, you can pick up sustenance at Centreville Café for your journey or stop into Buckley's Tavern, a long-time favorite haunt among locals, for a pint and a cup of mushroom soup.
From 52, turn onto Center Meeting Road. It's a left if you are coming back from Centreville. If you decided to forgo the stop, it is a right. Once on Center Meeting Road, notice Bidermann Golf Club on your right. This private club, built on the private estate of Henry Francis du Pont, was du Pont's private course (membership of one) until it became a small private golf club in 1963.
Cross over Montchanin Road, and you are almost to our third covered bridge, Smith Bridge! It is just over six miles from the Wooddale bridge. As you approach Smith Bridge straight ahead, notice the massive Granogue estate, owned by the du Pont family, to your right and its beautiful old stone water tower rising among the rolling hills in the distance. (Please note this is a private residence on private property).
Continue over Smith Bridge, also one lane. Smith Bridge, spanning the Brandywine Creek just south of the Pennsylvania line, was built in 1839. It was set on fire the night before Halloween in 1961 and was rebuilt without its cover. In 2002, the "new" Smith Bridge was "rebuilt" in the spirit of the original covered bridge.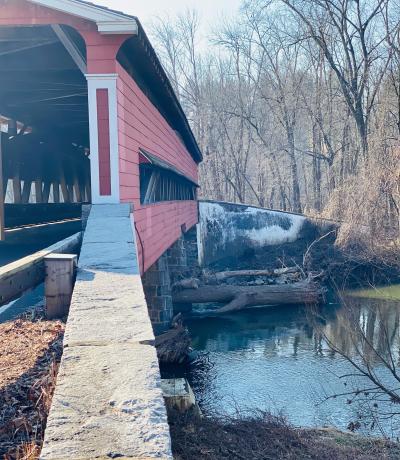 Once across the bridge, make a right on Brandywine Creek Road. To your right is the Beaver Valley recreational area, part of the First State National Historical Park.  Another one of the Brandywine Valley's hidden gems, this ruggedly beautiful and generally uncrowded hiking area is a choice picnicking spot. It offers lovely views of the rushing creek and well-marked hiking trails along the water and through the hills.
Continue following Brandywine Creek Road around to the left. On the right, note Ramsey's Farm. If you happen to be passing through in the fall, you must stop here! Ramsey's is home to several agricultural mazes (make sure you don't get lost!) and offers pumpkin picking and painting as well as visits with their cadre of farm animals.
Passing Ramsey's, make a right onto Thompson's Bridge Road. Brandywine Creek State Park (two entrances), another excellent stop off for a hike, will be on your left. Continue on Thompson's Bridge Road, passing the back side of Winterthur Museum, Garden & Library to your right (you will see signage).
If you have the time, a stop into Winterthur will not disappoint. The former home of Henry Francis du Pont (1880–1969), a renowned antiques collector and horticulturist, it houses one of the most important collections of Americana in the U.S. Its grounds offer fabulous displays of flora (and fauna) throughout the year. Don't miss a visit to the estate's reflecting pool (once an actual swimming pool) and to the friendly koi that live in the adjacent pond.
Just a smidge further up the road, on your left, is the Inn at Montchanin Village and Spa. The former worker's quarters for the DuPont gunpowder mills, this luxury estate is a fabulous place to spend a night or weekend if you want to stretch your adventure out over a couple of days.
Take a right on Buck Road and you will find yourself back on Route 52. You can continue south back to the City of Wilmington or Interstate 95. But . . .  your adventure does not have to stop here. Consider capping your journey off with visit to BBC Tavern and Grill for a bite (we love the diver scallops) and a selection off their excellent wines-by-the-glass list. Just make a right instead of the left, and you will be there in under a minute!
If you want to create your own route, you don't have to rely on us! Just type the names of each covered bridge into your GPS, and you will be on your way. Or don't. There's no better fun than getting a little lost in the Brandywine Valley and discovering the routes less traveled.
There's also a great deal more to see and do in this area than we were able to cover in this little blog post: grand estates, gardens, breweries, wineries, more opportunities to take in the great outdoors … we've got it all! To chart your own course, go to www.visitwilmingtonde.com for more trip ideas and expert travel advice via our live chat.