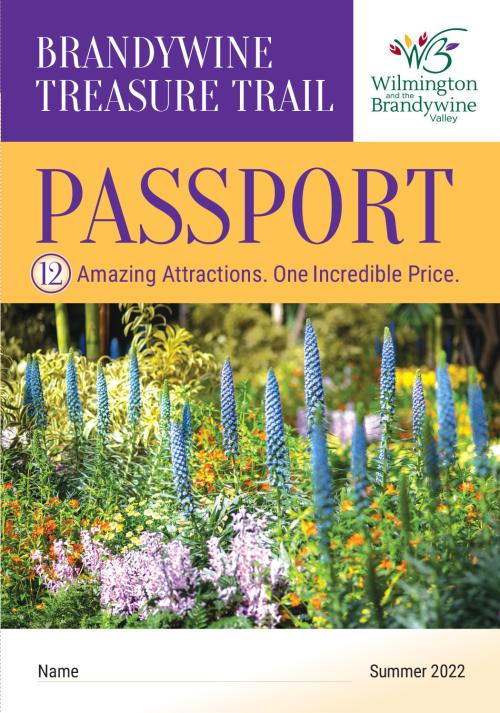 We have exciting news … The Brandywine Treasure Trail Passport is making its return in 2022!

Back by popular demand, this fan-favorite offers access to 12 of Greater Wilmington and the Brandywine Valley's top attractions for one affordable price.

The Passport is your admission ticket to thousands of acres of gardens, the grand estates of the du Pont family, renowned works of art, and some of the most intriguing chapters of American history.

And you have a full six months to experience it all. The Passport can be used any time from May 27 to October 31, 2022. Visit when you want. Stay as long as you want. Visit all the attractions in one adventure or spread it out over multiple trips.

Individual and family Passports are available. Prices start at just $49, amounting to a savings of up to $300. The Passport also offers the convenience of being able to visit multiple attractions without having to buy individual tickets. Click here to purchase your Passport today! They make great gifts as well. Hint … hint …

Attractions included in the Brandywine Treasure Trail Passport are:
See the museum's spectacular collection of American art, including notable works from America's First Family of Art, the Wyeths. From May 28 through September 5, you can view "Gatecrashers: The Rise of the Self-Taught Artist in America." Included are over 50 works by celebrated painters such as Horace Pippin, Anna Mary Robertson "Grandma" Moses, and John Kane.
Highlights include the largest collection of Pre-Raphaelite art outside of Britain and a significant collection of American art and illustration from the likes of Howard Pyle, Andrew Wyeth, Edward Hopper, and John Sloan. From June 25 through September 11, view "Stan Smokler: Steel in Flux." Smokler's welded steel sculptures are constructed from abandoned objects that are arranged into lively pieces that reflect a past history.
View contemporary works of art from established and emerging artists. Many of the works provoke conversations about societal issues and social change. From June 10 to August 21, the museum will host the special exhibition "Play" through a partnership with the Delaware Children's Museum, exploring the role of play in cognitive growth.

Explore the many stories of the First State at this museum, which also includes the Jane and Littleton Mitchell Center for African American Heritage. There, you can come inside the Journey to Freedom, an exhibition that tells the story of the African American experience in Delaware.
Be one of the first to experience this completely reimagined museum, formerly the Delaware Museum of Natural History, that reopens its doors just in time for Passport season! See the mighty Dryptosaurus and other prehistoric creatures, take a hands-on journey through the diverse ecosystems of Delaware and the world, and see some of the creatures that call our planet home.
Visit the estate and grounds where the du Pont story began in its scenic location along the Brandywine River. Opening late summer 2022 is "Nation of Inventors." This permanent exhibit features the second-largest collection of patent models in the world behind only the Smithsonian. These tiny working models of ideas were a required step in the 19th century toward acquiring a patent. See Eli Whitney's rifle stock, a Bissell carpet sweeper, a Corliss steam engine, and more.

The crown jewel of America's Garden Capital, this 1,100+-acre garden has received many accolades, including Best Botanical Garden in America. It is in the midst of a $200M expansion. In 2022, check out the newly renovated orchid house. From June 30 through October 30, be mesmerized by "Light: Installations by Bruce Munro." One of its numerous features includes a luminous Field of Light, featuring 18,000 illuminated bulbs adorning the landscape amid the large and small lakes.
Voted "Best Botanical Garden" in the 2020 USA Today 10Best Reader's Choice Awards, this botanical garden is one of Delaware's hidden treasures and is known for its collection of rare native plants. New in 2022 are two miles of scenic trails that offer stunning vistas as well as a chance to spot Appalachian Piedmont flora and fauna in their natural environment.
This exquisite, 77-room former du Pont mansion is also home to the largest formal French gardens in North America, modeled after Versailles. Throughout 2022, explore the estate, including the Chauffer's Garage and its impressive collection of antique cars, the basement bowling alley, breathtaking garden statuary, and an impressive water feature with 157 jets at its center. The estate also has a recently expanded trail system perfect for exploring the wooded grounds.

This 14,000-square-foot mansion built for George Read II (his father was a signer of the Declaration of Independence) is in the heart of Historic New Castle, a colonial gem on the shores of the Delaware River. Throughout 2022, take the brand-new interior tour uncovering new aspects of the history hidden in the architecture and furnishings of this National Historic Landmark.
Joseph Shipley, a Quaker merchant banker, built Rockwood between 1851 and 1854. Its Gothic Revival architecture and enchanting landscape were designed to reflect the beauty of an English country estate. Throughout the year, enjoy guided or self-guided tours of the museum and its six-acre Heritage Garden, including an Apothecary Garden.
This former du Pont family home features an unrivaled collection of American antiques and decorative arts as well as more than 1,000 acres of naturalistic gardens, meadows, and woodlands connected by trails, many of which are paved. From May 7 through January 8, it will feature "Jacqueline Kennedy and Henry Francis du Pont: From Winterthur to the White House." This exhibition highlights the unusual partnership formed when the youngest First Lady in American history appointed a reserved octogenarian collector from Delaware, Henry Francis du Pont of Winterthur, to lead her project to restore the White House interiors.
Start Planning Your Brandywine Getaway