The Beer, Bourbon & BBQ Festival Tour is coming to Wilmington on Saturday, August 19th at Tubman Garret Riverfront Park. This branded festival has been attended by well over 1 million people from New York to Florida – up and down the East Coast. There is a VIP Session from noon – 6pm and General Admission Session from 2pm – 6pm. The event will offer up all the pleasures that true Southerners live by – Beer, Bourbon, Barbecue, Boots, Bacon, Biscuits, Bluegrass, and Smoked Beasts! It's a great day of beer sippin', bourbon tastin', music listenin', cigar smokin', and barbecue eatin'.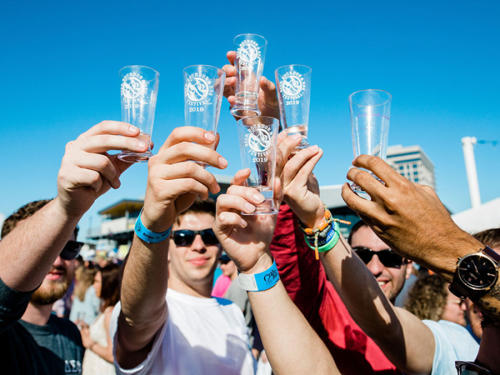 All guests will get a souvenir glass upon entering the event. The glass can be used to enjoy the All-You-Care-To-Taste samples of 60 different beers and 40 different bourbons.
Enjoy the great barbeque selection from vendors onsite – pulled pork from whole hogs, ribs, brisket, chicken, sausages, and all the fixins' you can imagine. The intent is to keep the portions heavy and the prices low. There is the Shrine of Swine where you get to enjoy whole hogs during each session - VIP and General Admission. 
The Cochon Carnival is loaded with fun activities and games to keep everyone challenged, including connect four, giant Jenga, cornhole and so much more! In addition, take in one of the seminars in the Tasting Theater with Master Distillers, Brewmasters and Pit Masters or rock out to your favorite tunes throughout the day on the Main Stage.  Browse and shop for brewerania, hot sauces, BBQ accessories, arts and crafts, and more. 
A ticket to this year's BBQ includes:  
The Shrine of Swine – Enjoy whole hogs during each Session.  
All guests receive a Souvenir Glass for tastings. 
Unlimited Beer and Bourbon Tastings as you stroll from table to table. There are 60 Beers and 40 Bourbons to taste. Enjoy, but please drink responsibly. 
BBQ Galore! Enjoy the great barbeque selection – pulled pork from whole hogs, ribs, brisket, chicken, sausage and any fixins' you could imagine. All other food is A La Carte.  
 
VIP Session. This VIP session is pork-a-licious. A VIP ticket includes all of the General Admission highlights along with: 

A BBQ Plate Dinner 
2 extra hours of sampling 
Whole Hog Tastings 
 

Designated Driver tickets are sold on-site for $25. 
Enter to Win a pair of VIP Tickets! 
While you're in town, be sure to take advantage of the Wilmington Discount Pass - a FREE downloadable pass that includes discounts to local attractions, restaurants, and area stores for tax-free shopping!