The annual Ladybug Festival, presented by Chase, has announced dates for its 7th consecutive year. The two-day block party style music festival will take place from July 20-21, 2018 in Downtown Wilmington, Delaware and feature over 75 acts, including emerging and established women artists.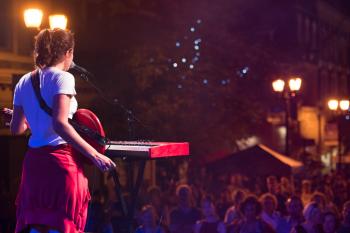 The free, female-fronted music festival has grown to be the largest of its kind in the country. "A number of studies show that female-fronted acts account for a little more than ten percent of festival lineups across the country. We are proud to present a lineup that celebrates and welcomes dynamic women-identified musicians," said Gayle Dillman, founder of Gable Music Ventures and co-creator of The Ladybug Festival. "As a woman-owned business, our vision is to not only play a prominent role in the development of independent artists, but also to continue our work as a disrupter of the status quo and create a more inclusive culture."
The Ladybug Festival was co-created by Gayle Dillman and Jeremy Hebbel of Gable Music Ventures as a response to the lack of representation for women-identified artists on festival stages in the region and across the country. Since its inception seven years ago, Ladybug has staged over 300 solo artists and bands for the annual celebration of women in music. The stage has previously seen notable acts such as Caroline Rose, Larkin Poe and Grammy-nominated Mary Lambert.
This year's lineup boasts an impressive mix of local favorites and emerging artists from around the country:
FRIDAY JULY 20TH - 5:30-10:00PM
Nalani & Sarina - New Jersey Pop/Rock/Soul
Kategory 5 - Wilmington Rock
Cecilia Grace - Baltimore Pop
McKinley Short - Wilmington Singer Songwriter
Phoebe Legere - New York "Transgenre" 
Swing That Cat - New Jersey Jump Blues/Swing/Cabaret
Junkanoo - New Jersey Rock Fusion
Rad & Kell - Philadelphia Rock/Soul
Terretta Storm - Wilmington Rock/Soul/Pop
Briz & the Revival - Philadelphia Soul/Funk
Lauren Kuhne - Wilmington Singer Songwriter
Karmalatta - Philadelphia Alternative/Indie Rock
Von Roz - Philadelphia Roots Rock
Lisa and Lori Brigantino - Brooklyn Singer Songwriters
Stacia LaChole - Wilmington R&B/Jazz/Soul/Pop
Soundproof Genie - Baltimore Indie Funk/Soul
Jess McAvoy - New York Pop/Rock/Blues
Calla Bere & the Attitude - Pennsylvania Roots Rock/Blues
Lo'Ryn & the Unknowns - Washington DC R&B/Pop
Isabella Rose - New Jersey Acoustic Alternative
Jessica Graae - Philadelphia Folk
Outcalls - Baltimore Pop
Foxanne - Brooklyn Indie Rock
Erin Kelsey - Newark DE Folk 
Alyssa Hankey - Pittsburgh Folk/Rock
Jenn Minor - Maryland Singer Songwriter
Gill Henry - Ashville NC Roots/Americana
LADYY - Wilmington R&B Soul
Reina Williams - New Jersey Reggae/Acoustic Soul
Evangelina - Wilmington Singer Songwriter
Juliana Danese - Pennsylvania Singer Songwriter
Olivia Rubini - Wilmington Pop
Ava Awitan - Hockessin Singer Songwriter
Kiera Sankey - Wilmington Jazz Singer Songwriter
Alex Allegra - Pennsylvania Country Pop

SATURDAY JULY 21ST - 2:00-10:30PM
Lauren Ruth Ward - LA/Baltimore Rock and Roll
Grace Vonderkuhn - Wilmington Garage/Glam Rock
Hoochi Coochi - Dover Indie Blues
Angela Sheik - Wilmington Alt-Pop/Antifolk/Trip-Hop
Laura Cheadle - New Jersey - Blues/Soul/Pop
Sharon Sable - Wilmington Jazz
CVGES - Philadelphia - Alt Rock
Scarlet Sails - NYC Rock/Alt/Indie Rock/Piano Rock
Sharon Lia Band - Philadelphia Alternative Rock/Indie Rock
Aubrey Haddard - Cambridge MA Electric Indie Soul
Bronnie - UK/Philly Pop/Punk
An Letreece - Wilmington Soul/Funk
Ellie Lee Oldfield - Pittsburgh Pop Rock
Nihkee Bleu - Wilmington Soul/Rock Singer Songwriter
The Firefly Gals - Malvern PA Old Timey Bluegrass/Americana
Wicked Sycamore - Baltimore/DC Acoustic Trio
The Rizzos - Brooklyn Garage Rock
The Fly Birds - MD/VA Folk/Americana
Paulette Branson & Mixed People - Philadelphia Rock / Funk
Sonja Sofya - Philadelphia Alt Rock
Hit Like a Girl - NJ Indie/Emo/Pop
Marielle Kraft - Washington DC Singer Songwriter
Homestead Collective - Philadelphia Indie Folk
Marion Halliday & Trickster Sister - Philly/Kentucky Americana
Amanda Nolan - West Grove PA Pop Country Soul
Chloe Rae - Newark DE Singer Songwriter
New to the festival this year will be the "No-Bro Comedy Show" and a "Little Ladybugs" concert for the kids, both on Saturday, July 21st.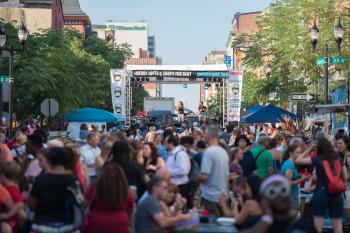 With a block party vibe and two days of great music, you'll want to make this a weekend trip!
Where To Stay:
The Westin on the Wilmington Riverfront is offering discounted rooms for those travelling for the festival, including complimentary parking, shuttle service to and from the festival, and free Wi-Fi. Book Here.  If you want to be right in the middle of the action, discounted rooms are also available at the DoubleTree Downtown Wilmington, just a few short blocks away from the stage! Book Here.
What To See:
The Wilmington Riverfront offers something for every mood and taste.  From Penn Cinema IMAX movie theater, to the open green spaces of the DuPont Environmental Education Center and Tubman-Garret Riverfront Park, you'll find plenty of activities to enhance your stay! And when it's time to eat, everything is
within an easy walk – local brewpubs, kid-friendly quick bites, cocktail bars, and some of the best outdoor decks in all of Delaware!
Book your room for the FREE Ladybug Music Festival now and get started planning the rest of your trip with our Free Visitors Guide!