As we all know, many of our grocery stores are running low on select items . . . the demand for toilet paper and paper towels, for one. Who would have ever thought a year ago we'd be experiencing a shortage of paper products, of all things? 
Well, these items and many more sought-after food and household products can be found at a number of innovative restaurants in Greater Wilmington and the Brandywine Valley that have adapted their wholesale supplies into amounts that can be sold in retail quantities to customers. One super inventive eatery, Cafe Gelato in Newark, is even offering painting and power washing services.
Here are some of the goodies you can pick up from our area restaurants, some of which have even opened entire markets to serve the need. And as always, it is great to support our small businesses in any way we can through these uncertain economic times.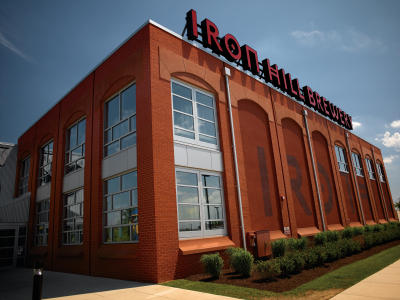 1. Iron Hill Brewery (16 East Coast locations)
The restaurant is stocking each of its locations with a limited selection of staples, such as butter, milk, cheese, meats, toilet paper and paper towels. The groceries, which must be ordered in advance, supplement a scaled-down carryout menu, and beer and wine to go.
In addition to this, it has launched themed "Craft Kit Bundles" that give people all the ingredients they need to make a meal at home. They include "Steak and Bake," "Pizza Party," "Tacos for Four," and even lunchboxes for kids. We could dig a PB&J right now, and we are not even kids!
This brewery slash restaurant in downtown Wilmington has opened a market selling coffee, candy, condiments, items for home baking, oatmeal, pasta, snacks, cheeses and more. There's also gift cards and swag on hand too. Like Iron Hill, Stitch House is also offering a pretty tasty comfort food-inspired menu and a beer, wine and cocktail menu for takeout or curbside pickup.
3. McGlynn's Pub (two locations in Newark and one in Dover)
McGlynn's has started selling "The Empty Aisle Kit" - $65 will get you 8 rolls of toilet paper, 4 rolls of paper towels, 2 boxes of vinyl gloves, dish soap, sani-wipes and disinfectant spray.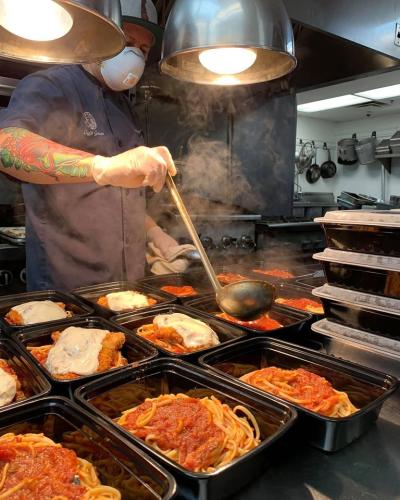 4. Caffe Gelato
This Northern Italian restaurant is delivering complete home meals. It has also opened a an extensively stocked marketplace that offers delivery. Marketplace items include fruit, eggs, meat, seafood, artisan pasta, kitchen staples, vegetables, seafood, wine, and more treats in addition to toilet paper, paper towels, latex gloves, and face masks. They've even entered painting and power washing services into the mix.
In addition to all of this, they are also hosting a Zoom-based wine dinner with special guest Julio Ruiz on April 30. Check here for details.
This long-time local institution in Centreville is selling groceries in addition to its curbside delivery of meals, beer and wine to go. Groceries on offer include meats, fruits and veggies, paper towels, eggs, cheese, butter and bread.
6.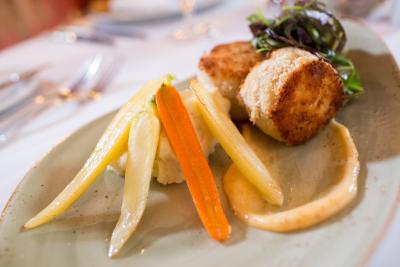 Banks Seafood Kitchen and Raw Bar
In addition to tasty carryout dishes, including lobster rolls made fresh daily, as well as homemade desserts, this Wilmington Riverfront staple is also offering fresh frozen fish for carryout. Selections include Faroe Island Salmon, Big Eye Tuna, Redfish, and more. And they come with seasoning! A no muss, no fuss meal. Sides like lobster mashed potatoes, clams casino and crab cakes can be added on to your order. Check out the latest on their Facebook page.
Even with COVID-19, there are still a lot of options in Greater Wilmington and the Brandywine Valley for cooking great meals at home, getting those hard-to-find items and supplies, and enjoying takeout or delivery when you don't feel like cooking. Hats off to the ingenuity and gumption of our restaurant community! Please visit and support them today.
Also, if you are a restaurant offering either market-style groceries, take out, or some other type of creative service to keep things going as we get through this thing together, please contact Jen Boes at the Greater Wilmington Convention & Visitors Bureau on jenboes@VisitWilmingtonDE.com. We'd be happy to add you to our restaurant blogs.
Also, if you are a restaurant looking to add services like these to your offerings, the Delaware Restaurant Association has informed us that Sysco has its own resource page dedicated to helping restaurants turn into markets and has done several webinars on the topic: https://foodie.sysco.com/sysco-pop-up-shop/.
Be safe and be well, everyone. We look forward to seeing you soon.