Warmer weather (well, warmish weather) has finally arrived! Before you know it, spring blooms will be in full force, the fields and forests will be green again, and everyone will be getting out to enjoy the longer days and balmy temps. 
Now how should you satisfy your spring fever? To help you out, we've rounded up our top 10 favorite ways to celebrate the season here in Greater Wilmington and the Brandywine Valley: 
1. Dine al fresco.
Enjoying a meal outside with a great view is one of our favorite past times. Now that so many more places are offering heated outdoor seating, the temps don't have to be above 70 for you to comfortably dine al fresco. Some of our go-to places include the restaurants on the Wilmington Riverfront that offer a view of the Christina River, Market Street (Wilmington's Restaurant Row), and Main Street Newark. 
2. Say hi to some of our furry friends.
The Brandywine Zoo is one of New Castle County's hidden treasures. While small, it is home to a great variety of animals including two of our favorites: the red panda and the white-faced saki. It's the perfect spring outing for you and your kids. Now that the temperatures are climbing, the zoo's three different species of lemurs will be taking to the trees in their Madagascar enclosure. What are you waiting for? They are ready to welcome you!
3. Take a hike.
There are miles and miles of trails to explore, whether you are looking for a casual stroll or something more invigorating. One of the loveliest – and littlest known – areas to take a hike is Auburn Valley State Park, Delaware's newest state park. The paved trails offer picturesque views of the Red Clay Creek and a number of historic buildings including the Marshall Mansion. For more of a challenge, head to Beaver Valley – part of the First State National Historical Park – for a maze of trails that includes some steep uphills, rocky terrain, and a number of streams to cross. And the scenery here is just gorgeous. Read this blog for even more routes to consider.
4. Sip some suds.
Northern Delaware is home to nearly 15 breweries, and there are even more just across the state line in Pennsylvania. If they don't have food regularly on the site, most host food trucks on the weekends and for special events. A number also feature live music. Two popular spots among locals are Autumn Arch Beer Project and Dew Point Brewery. Autumn Arch is a local small-batch, experimental brewery located in Newark, Delaware specializing in deep flavor profiles, edgy bitterness, and complex relationships. Dew Point is located in a historic snuff mill. Sample some of what's on tap and, if the weather is fine, cop a squat on its lovely lawn overlooking the architecturally interesting brick buildings of the former mill. But don't stop there! The Delaware Beer, Wine and Spirits Trail will provide you with enough boozy fun to last you through spring and summer. Please remember to drink responsibly.
5. Road trip!
The sun is shining, the birds are singing and the open road beckons. Ride with the windows (or the top) down and cruise through the scenic countryside of Greater Wilmington and the Brandywine Valley.
There are four "official" scenic drives to choose from. The Brandywine Valley National Scenic Byway takes you down winding country roads bordered by stone fences and meadows, enabling you to also take in the mansions and gardens that earned our region the moniker "Chateau Country." The Red Clay Valley Scenic Byway is a lesser-known network of roads that takes you through one of the most pristine and undeveloped watersheds in the Mid-Atlantic. The Harriett Tubman Underground Railroad Byway follows the course America's most famous and courageous "conductor" took to lead escaped slaves to freedom in the North. The Delaware Bayshore National Scenic Byway parallels the Delaware River, winding through expansive wildlife refuges and an occasional village. Some of the best birding in the East is along this route, and you are just in time to witness the spring migration!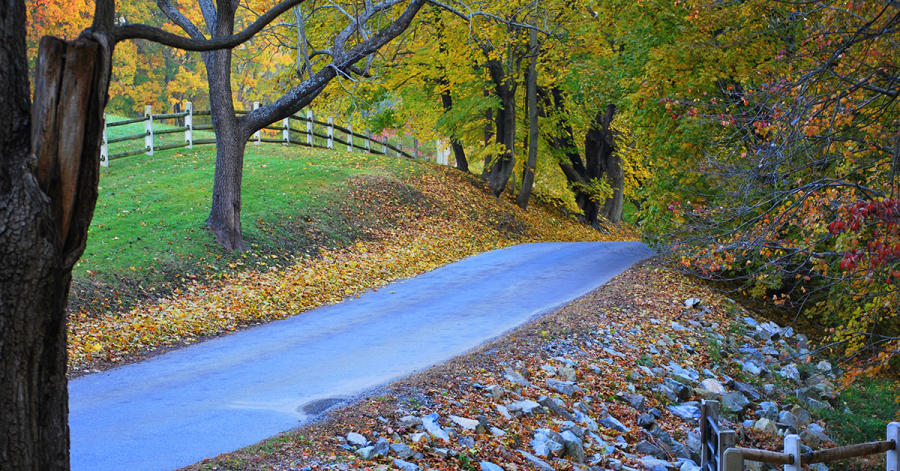 6. Trade in your four wheels for two.
Delaware is the ninth most bike-friendly state in the U.S. according to the League of American Bicyclists. In northern Delaware, there are lots of great road biking routes, heart-pumping mountain biking trails, and paved or gravel paths that let you enjoy the fresh air and scenery without worrying about car traffic. Click here for the low-down on some of our top spots for bicycling.
8. Scream for ice cream.
Ice cream is the official dessert of summer … but that does not mean you can't start enjoying it in spring! Greater Wilmington and the Brandywine Valley are home to some really excellent creameries that make the sweet stuff from scratch. One of our favorites is Woodside Farm Creamery! For more sweet treats... 
9. Treat yourself to a little shopping.
Celebrate the arrival and warmer weather with a little wardrobe refresh. The Christiana Mall – Delaware's largest – has many different places to get your retail fix on, from department stores like Nordstrom and Macy's to favorite brands like Aerie, Anthropologie, Forever 21, H & M, and Urban Outfitters. For boutique shopping, check out the shops in Greenville, Centreville, Trolley Square, and downtown Wilmington. To peruse our shopping directory, click here.
10. Go on an "Insta-safari."
Take a driving and walking tour of Greater Wilmington and the Brandywine Valley to seek out your own favorite sites. There are so many, particularly in spring when our many gardens and green spaces are beginning to wake up from their winter slumber. The colors are fabulous and you may discover some treasures we don't even know about. As you travel around snapping pics and selfies, don't forget to tag us at #VisitWilm! Who knows? You may find your #InstaArt featured on our social media pages!
Are you ready for your spring fling to Greater Wilmington and the Brandywine Valley? If you're looking for a great deal, be sure to check out our Brandywine Treasure Trail Passport. It gives you admission to 12 of our top attractions for one set price! For more possibilities for your "Celebrate Spring," itinerary, check out www.VisitWilmingtonDE.com and our live chat, where you'll find exclusive access to insider information and tips on our area.