The lineup has been announced, and you won't want to miss this year's DuPont Clifford Brown Jazz Festival when it comes to Wilmington, Delaware June 21-24, 2017!  This five-day event is the largest FREE jazz festival on the east coast and brings some of the most exciting, internationally acclaimed jazz personalities to one stage.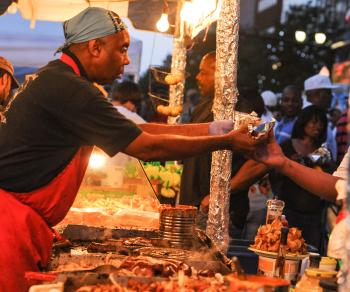 This year, the festival will be held on Wednesday, June 21 through Saturday, June 24 in Rodney Square with performances starting at 6 p.m. on the weekdays and at Noon on Saturday. The festival will also feature the return of the Silver Trumpet Block Party on Friday evening that will begin at the end of the Rodney Square stage performances. The post-festival party will take place in the 800 block of Market Street.
  
The festival is an annual tribute to the late jazz trumpeter and Wilmingtonian Clifford Brown who was born in 1930 on the east side of the City. Also known as 'Brownie,' he died in 1956 at the age of 25 in a car accident, leaving behind only a few years' worth of recordings. Brown had a considerable influence on later jazz trumpet players including Donald Byrd, Lee Morgan, Booker Little, Arturo Sandoval and Freddie Hubbard. Brown wrote two compositions, "Joy Spring" and "Daahoud", which have become jazz standards.
The complete festival schedule of performances is listed below and is also available at: www.cliffordbrownjazzfest.com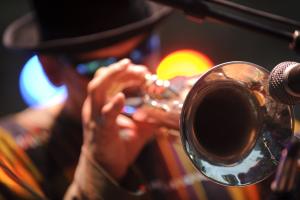 Wednesday, June 21
2017 Clifford Brown Tribute Band with Gerald Chavis
- The 2017 Clifford Brown Tribute Band consists of some of the most sought-after musicians in the Delaware region.  Hailing from Pennsylvania, New Jersey, New York and Delaware, the collective experiences and work history of the band includes performances and recordings with luminaries from Mick Jagger to Chick Corea to Boyz To Men, and many, many more. Most band members are actively nurturing the next generation of jazz musicians. Notable performers include saxophonist Jaleel Shaw, a Philadelphia native currently residing in New York City.  Jaleel is one of the last students of the renowned teacher, Robert 'Boysie' Lowery, who is best known for teaching Clifford Brown.  Jaleel is recognized by many jazz publications as one of the top saxophonists on the scene today.
Alicia Olatuja—Praised by the New York Times as "a singer with a strong and luscious tone and an amiably regal presence on stage", Alicia Olatuja has been astounding audiences with her exquisite vocals, artistic versatility and captivating demeanor. She first came into the national spotlight in 2013, while performing as the featured soloist with the Brooklyn Tabernacle Choir at President Barack Obama's Second Inauguration. Shortly thereafter, she assembled her own jazz based ensemble and recorded her first solo album.



Theo Croker—Trumpeter, composer, and arranger Theo Croker is an adventurous musician whose adept skills find him at home whether playing standards, swinging post-bop, or more groove-oriented electric jazz. A native of Leesburg, Florida, Croker is the grandson of the late great jazz trumpeter Doc Cheatham. He began playing trumpet around age 11 after hearing Cheatham play in New York City, and by his teens was studying music at the Douglas Anderson School of the Arts in Jacksonville, Florida. In 2009 he released his sophomore album, In the Tradition, which paid tribute to Cheatham. Croker released his third solo album, the Dee Dee Bridgewater-produced Afro Physicist on OKeh Records.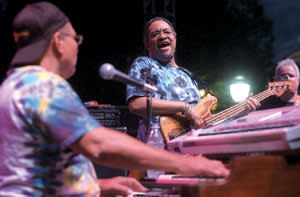 Thursday, June 22
Danilo Perez Trio—Pianist, composer, educator and social activist, Danilo Pérez is among the most influential and dynamic musicians of our time. n 1993, Pérez turned his focus to his own ensembles and recording projects, releasing eight albums as a leader, earning Grammy and Latin Grammy nominations for Central Avenue (1989), Motherland (2000), Across The Crystal Sea (2008). In 1996 he was signed by producer Tommy Lipuma to join the Impulse label and recorded Panamonk, a tribute to Thelonious Monk, which according to DownBeat magazine is one of the most important jazz piano albums in the history. Pérez, who served as Goodwill Ambassador to UNICEF, has received a variety of awards for his musical achievements, activism and social work efforts.
Arturo O'Farrill/African-Cuban Jazz Ensemble (Octet)—Pianist, composer, educator and founder and Artistic Director of the nonprofit Afro Latin Jazz Alliance, was born in Mexico and grew up in New York City. His debut album with the AfroLatinJazz Orchestra, Una Noche Inolvidable, earned a first GRAMMY Award nomination in 2006. He has studied and worked with a wide spectrum of artists including Dizzy Gillespie, Steve Turre, Freddy Cole, The Fort Apache Band, Lester Bowie, Wynton Marsalis, and Harry Belafonte. Over the past several years, Arturo has toured the U.S.,     Latin America, Europe, and Asia. During this period, he founded the Afro Latin Jazz Alliance as a not-for-profit organization dedicated to the performance, education, and preservation of Afro Latin music.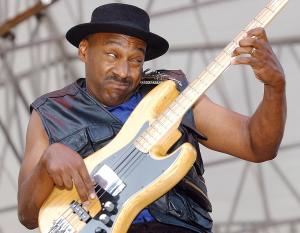 Friday, June 23
High and Mighty Brass Band—There's a reason that musical trailblazers from Galactic to DJ Logic have recently chosen to collaborate with High and Mighty Brass Band! In addition, legends such as Dr. John, Rebirth Brass Band, and Trombone Shorty have chosen them to share the stage. Co-mingling band members from New Orleans, NYC, and a host of other cities across the globe, this dynamic crew has the unique ability to combine classic New Orleans Funk and R&B with more modern Afro-Beat and Hip Hop influences.
 
Frederic Yonnet—Urban jazz harmonicist Frédéric Yonnet plays an instrument many have owned, but few have mastered. Originally from France, Yonnet is regarded as one of the most talented and innovative harmonica players on the international music scene today. While Yonnet enjoys the excitement of performing with some of the world's greatest music legends, he knows that it's the technical mastery of his instrument — along with innovative collaborations and solo projects — that will earn him recognition as one of the greatest harmonica players in the world.
Saturday, June 24
Wilmington Youth Jazz Band—The Wilmington Youth Jazz Band is a dynamic jazz music education program which is open to young musicians aged 10 and up in Delaware and the surrounding regions. Founded in 2004 by renowned saxophonist Fostina Dixon-Kilgoe, the WYJB has performed at various venues such as: The Kennedy Center on the Millennium Stage in Washington, DC, the Clifford Brown Jazz Festival, the Grand Opera House and performed for The Honorable Mayor James Baker of Wilmington, Delaware.

Sumi Toonoka—Sumi Tonooka (pronounced To-NO-ka) has been called a "fierce and fascinating composer and pianist" (Jazz Times), "provocative and compelling" (New York Times), and "continually inventive, original, surprising, and a total delight," (Cuadranos de Jazz, Madrid). During a career spanning more than 30 years that has taken her from bases in Philadelphia & Boston, to New York & Seattle, Tonooka has been developing a body of work that surprises and delights audiences – quietly piling up accolades from jazz writers and fellow musicians.
Somi—A few years ago, acclaimed East African vocalist & songwriter Somi decided to move from New York City to Lagos, Nigeria for 18 months in search of new inspiration. The result: a new album she calls The Lagos Music Salon released in August 2014 as her major label debut on Sony Music/Okeh - landing at #1 on US Jazz charts.  The album, which features special guests Angelique Kidjo, Common and Ambrose Akinmusire, draws it material from the tropical city's boastful cosmopolitanism, urgent inspiration, and giant spirit - straddling the worlds of African jazz, soul, and pop with a newfound ease and a voice that Vogue Magazine simply calls "Superb! Born in Illinois to immigrants from Rwanda and Uganda, the African and Jazz legacies are always crucial to her sound. Often referred to as a modern-day Miriam Makeba, JazzTimes magazine describes her live performance as "the earthy gutsiness of Nina Simone blended with the vocal beauty of Dianne Reeves," while Billboard exclaims that she's "all elegance and awe…utterly captivating." Somi and her band continue to perform at international venues and stages around the world.  In her heart of hearts, she is an East African Midwestern girl who loves family, poetry, and freedom.
 
Regina Carter "Simply Ella" – Regina Carter is the foremost jazz violinist of her generation and a MacArthur Foundation "genius grant" recipient. Marking the 100th birthday of a musical legend, Regina's upcoming album and touring program celebrates the incomparable Ella Fitzgerald – the source of Regina's musical inspiration. An influence she has cherished throughout her life, Regina describes her visceral connection to Ella's music.