This Spring, OperaDelaware will return to The Grand Opera House to celebrate the 225th anniversary of the birth of Gioachino Rossini. The festival opens with Semiramide on April 29 at 7:30 p.m. and closes with a second performance on May 7 at 2 p.m. The company will also present two performances of Cinderella (La Cenerentola), the first on April 30 at 2 p.m. and the second on May 6 at 7:30 p.m, as well as a special performance of Petite messe solennelle. 
Semiramide is based on Voltaire's tragedy, Semiramis. Written in 1823, Rossini's final Italian opera is about a power-hungry Babylonian Queen who murdered her husband. This rarely-performed tour de force is a sumptuous masterpiece, perfectly suited to the intimacy and extraordinary acoustics of The Grand Opera House.  
Composed 200 years ago, Rossini's setting of Cinderella (La Cenerentola) has stood the test of time. Glass slippers are replaced with bracelets in this captivating opera. While there's no fairy godmother in Rossini's story, there's still a healthy dose of step-sisterly mischief that ends in a happily ever after.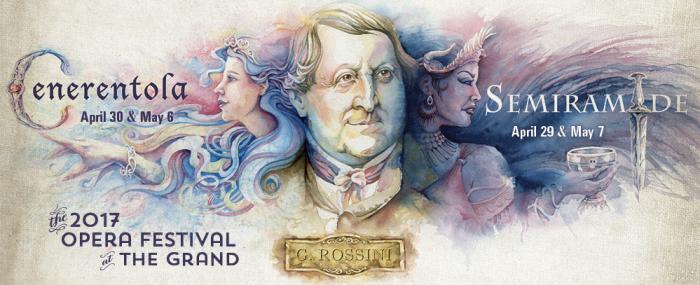 Rossini's Petite messe solennelle (Little solemn mass) was written in 1863, over 30 years after he had retired. The composer described it as "the last of my péchés de vieillesse" (sins of old age).
Gioachino Rossini's life was bursting with the joy of music. Born in 1792 to two struggling musicians, he started his first opera at age 12. By 20, he had written a half-dozen more (including The Barber of Seville and Cinderella), making him the idol of Italy.  At 38, he was the most popular composer in opera history, with a string of 39 beloved works, overtures that transformed the medium, and a fortune well earned from the royal and the rich.  At 39, he "retired." 

The OperaDelaware 225th birthday celebration Festival will be as full of unforgettable music—and incredible surprises—as the inimitable Rossini would have lived it.   Be sure to get your tickets for two weekends of amazing opera and superb performances that can be enjoyed by both new and seasoned opera fans!