Can you guess where to get the best crab cakes in Delaware? The answer is the café in the Courtyard by Marriott Newark at the University of Delaware, according to Delaware Today magazine. 
You can thank Mark Chopko. His crab cake creation was named "Best of Delaware" in the July 2019 issue of the magazine. This is the ninth consecutive time Chopko, executive chef for the café, has received the honor. 
His secret? He likes to keep it simple. 
"We have very little seasoning in our crab cakes," Chopko said. "No fillers and it's gluten free. It's all jumbo lump crab meat. We let the crab basically do the work for us and that speaks for itself. We serve it with a little bit of a creole mustard sauce, but basically what you're eating is big clumps of jumbo lump crab meat."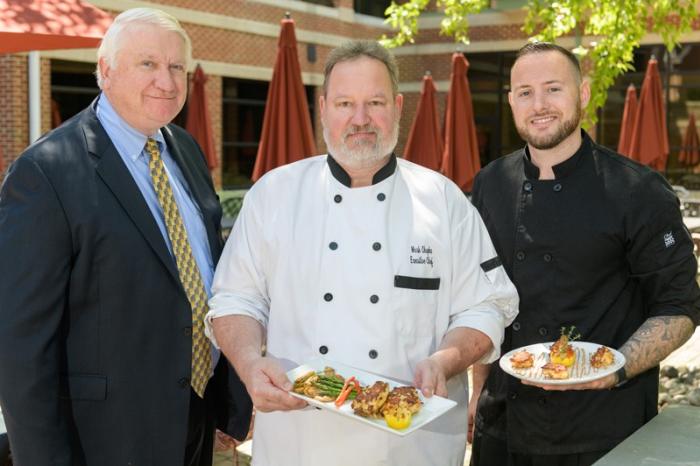 Courtyard by Marriott Newark at the University of Delaware Managing Director Bill Sullivan (left),
Executive Chef Mark Chopko (center) and Sous Chef Jeff Brittingham with plates of Chopko's award-winning crab cakes.
The golden brown edges of crab meat lumped together into an imperfect circle prove his point. 

Since crabs are a seasonal delight in Delaware, Chopko said they occasionally get crabs locally, but also buy high quality fresh meat from Indonesia. It costs more than $300 a case.    

"Great ingredients make great crab cakes," he added.   
William Sullivan is the hotel managing director and an adjunct professor in UD's Department of Hospitality Business Management, which is part of the Lerner College of Business and Economics. Sullivan said Chopko continues to be a valuable team member since he joined the hotel when it opened in 2004. 

"I thank him for his dedication and loyalty to our hotel, but I also would thank him for getting us the incredible food item, the crab cakes, which has gotten us extensive notoriety and, most importantly, has brought customers to the hotel," Sullivan said. "So, I thank him for bringing me a lot of business and for being a great leader and he's also a great developer of his staff."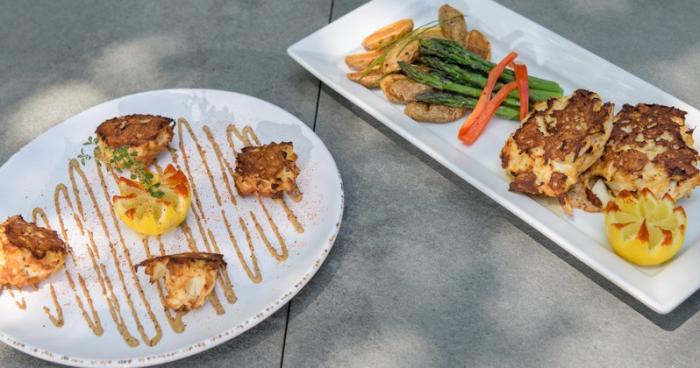 The secret to Chef Mark Chopko's crab cakes is simplicity. What you get is real chunks of jumbo lump crab meat.
To that last point, Chopko prides himself on mentoring and developing young talent. His sous chef, Jeff Brittingham, started out as a dishwasher and climbed the ladder due to his hard work and dedicated to the craft. 

Chopko also occasionally works with UD students. He has hired some throughout the years to join his staff. Additionally, the hotel is used as a teaching facility for students majoring in hospitality business management. For example, students take on shifts as the manager-on-duty through the Hotel Management Lodging Module Practicum. Chopko said he might pull student-managers in to help prep for a banquet or get their input on menu marketing.

In addition to his crab cakes, other customer favorites at the café include Chopko's pot roast, chicken pot pies and St. Louis-inspired barbecue spare ribs. 

Outside of the restaurant, Chopko said he loves to make soup. This likely stems from his childhood, when his grandmother would make chicken noodle soup from scratch — including rolling and cutting her own noodles. The aroma of chicken noodle soup reminds him of home and inspired him to recreate the experience for his own children.

"I have two children (two boys) and when each one came home from the hospital, I made sure I had chicken soup on the stove," Chopko said. "So when they came into their home for the first time, the first smell they experienced was the smell of chicken noodle soup. That was a little thing I did as a homage to my grandmother."

Chopko will join other winners of the "Best of Delaware" for the annual party at the Chase Center on the Riverfront in Wilmington on Aug. 8, where he will serve up his delicious crab cakes. 
Article courtesy of
UDaily
. Written by Carlett Spike.
An official publication of the University of Delaware
Office of Communications & Marketing