June 18 is Father's Day! If you are looking for fun activities to celebrate with Dad that day (or really any day), Greater Wilmington and the Brandywine Valley have got you covered. Here is our own personal "insider" list of the best things to do with your father or father figure.  
1. Cast a Line.
At Brandywine Creek State Park, fish for small mouth bass, bluegill, and crappie in the creek and for trout in Wilson's Run. Lums Pond State Park offers some of the best freshwater fishing in the state and is periodically stocked with striped bass. The small ponds of White Clay Creek State Park offer year-round fishing for bluegill and crappie in addition to catch-and-release bass. Want the help of a professional? A Marblehead Fly Fisher out of Centreville, Delaware, offers some great guided fly fishing trips in and around our region. Or maybe you and Dad already have your own favorite secret fishing spot?
2. Hit the Green.
There are numerous top-quality public and semi-private golf courses in Greater Wilmington and the Brandywine Valley. Deerfield Golf Club, Delcastle Golf Club, Ed Oliver Golf Course, Rock Manor Golf Course, and White Clay Creek Country Club at Delaware Park are some of our favorite places to play.
3. Bond Over Beers (and Wine!).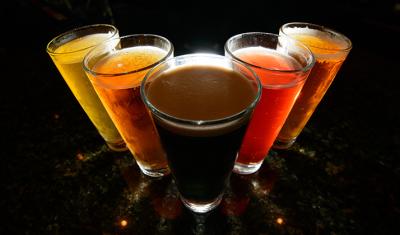 Our area is home to a bunch of great breweries and tasting rooms, so grab Dad and take in some suds and sun! Most have outdoor seating. Iron Hill Brewery, now 16 locations strong, is one of our best known. Its beers regularly medal in the Great American Beer Festival. And did we mention the food is awesome too? Bellefonte Brewing Company, operated out of a warehouse/storage space, is also a popular weekend spot. If you get hungry, food trucks roll in on the weekends. For a full list of all beer-centric locations and to map out your own beer trail, click here. If wine is more dad's style, then take advantage of Penns Woods Winery's Father's Day in the Vineyard event. It's an entire weekend to celebrate Dad! The event features live music with special classes on Cigar Pairings, Wine & Whiskey Cocktail Making plus a Wine & Beer Pairing, bar and more.
You and Dad can make a full day (or two) out of it!
A Day with Dad in Greater Wilmington
4. Celebrate with His Favorite Food.
Is it tacos Dad enjoys? Try out the extensive taco menu at Del Pez Mexican Gastropub … and then check out Constitution Yards Beer Garden just a few feet away for some local beers and axe throwing! Is steak Dad's thing? Then he'll want to check out Bardea Steak or Snuff Mill Restaurant, Butchery and Wine Bar (fan favorites throughout #VisitWilm.) Reservations are hard to come by so plan accordingly. For a full list of restaurants to choose from (there are so many), click here. 
5. Take to the Water.
If you've got your own boat, why not take a cruise down the Christina, tie up at the public dock on the Wilmington Riverfront (it is free), and treat Dad to lunch at one of the restaurants here? Most offer outdoor dining. Or, take a trip down the C&D Canal for a stop at Grain H20. Tie up at one of the transient slips at Dock G, and enjoy a delicious meal overlooking the water. 
6. Give Dad Some Inspiration for His Home Garden.
The gardens of the 630-acre Mt. Cuba Center are gorgeous throughout the year! Treat Dad to a visit to this spectacular display of more than 1,000 native plants, many of which are threatened by extinction. If one Greater Wilmington attraction doesn't seem like enough give Dad, the gift of a Brandywine Treasure Trail Passport. It's admission to 12 local attractions, for one price!   
7. Take the Family Out for Homemade Ice Cream.
A scoop of this summer staple is sure to put a smile on Dad's face. And we've got some excellent homemade ice cream spot for you to choose from. At Woodside Farm Creamery, ice cream is made on-site using milk from a herd of Jersey cows. And be sure to try our favorite flavor … Motor Oil. Another good pick is UDairy Creamery. Its flagship location is near the University of Delaware's College of Agriculture & Natural Resources' dairy farm in Newark, Delaware and a second location on Main Street in the heart of the University. College students make and serve over 34 rotating ice cream flavors year-round. 
8. Go for a Bike Ride.
The 14.8 round-trip Jack A. Markell (JAM) Trail is a great way to spend the day with Dad. The trail connects the Wilmington Riverfront with historic New Castle, winding through scenic marsh lands and waterways. Hungry? There are lots of good dining options at the Riverfront and in New Castle. Once you reach New Castle, take a breather in Battery Park and watch the ships go up and down the Delaware River. Or stroll the town's cobblestone streets and admire the colonial architecture. No bike? No worries. You can rent them along the Riverfront at the start of the trail at the DuPont Environmental Education Center or on the FIN app.
9. Have an Adventure.
Looking to shake things up this Father's Day? Have a tree top adventure at Go Ape! located in Lums Pond State Park. Navigate through the treetops and even cross the water using Double Stirrups, Zigzag Trapeze, Flying Carpet, Canyon Crossing, two Tarzan swings and FIVE zip lines. It's loads of fun for the whole family. Or treat Dad to a train ride! The Wilmington and Western Railroad has lined up its steam locomotive to treat Dad and the grandpas to an adventure on the rails. Pack a lunch and enjoy the ride – did we mention Dad rides for half the fare?  
10. Try Your Luck at the Slots.
The slots are open (but under construction) at the Casino at Delaware Park! Let Dad spin to win and, who knows? Maybe he will hit the jackpot. Horse racing simulcasting is also open. Dad can also watch and wager on horse races from the leading tracks across the U.S.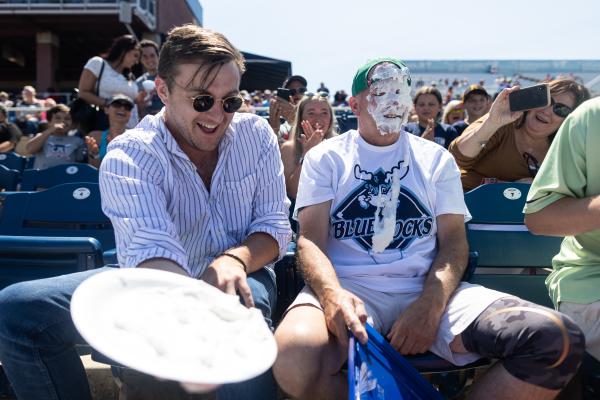 11. Father's Day at the Ballpark 
If baseball is Dad's thing, then grab your tickets to spend Father's Day at the ballpark! Kids can enjoy a pre-game catch on the field with Dad before the game AND post-game kids get to run the bases. It will be a night to remember for the whole family.  
There are so many ways to celebrate Dad in Greater Wilmington and the Brandywine Valley, on Father's Day and every day of the year. For even more things to do with Dad, go to www.visitwilmington.de.com.