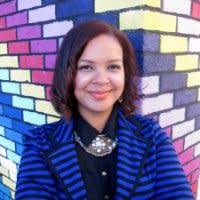 Well known for her curatorial work in the Washington, DC area, Bryant-Greenwell brings her expertise as a social justice specialist at the National Museum of African-American History and Culture, and collaborator who seeks "transformational experiences" to The Delaware Contemporary. Her curatorial work sews the seams of social justice and contemporary art, connecting awareness, creative expression, and transformational change advancing equity in communities. 
The exhibition, Spiral, Recoil, engages the legacy of black art spanning 50 years.  In 1965, a group of black artists formed the collective, Spiral, and held a single exhibition from May 14 through June 15. The collective considered the question, "What does it mean to be a black artist?" Spiral, Recoil continues to probe that question through artwork critical of contemporary currents. By investigating the legacy of the 1965 group, Spiral, Recoil presents new questions considering black representation in the art world and beyond.  In 50 years of "progress", how far have we actually come? How did we get to where we are today? Having curated nine exciting contemporary visionaries: Holly Bass, Allana Clarke, Wesley Clark, Billy Colbert, Larry Cook, Jamea Richmond Edwards, Amber Robels-Gordon, Stanley Squirewell, and Stephanie Williams, Bryant-Greenwell presents a reflection on these questions and the black experience through the lens of an artist and an American.
Bryant-Greenwell's writing has been featured in The Washington Times, The Examiner, CBS, and Brightest Young Things. She received her BA in Art History from the University of Maryland and her MA in Museum Studies from George Washington University.
About The Delaware Contemporary
The Delaware Contemporary is a non-collecting contemporary art museum and a dynamic gathering place for exploring new ideas at the intersection of art, design, and technology. The Delaware Contemporary's compelling exhibitions and innovative educational experiences inspire the infusion of art into daily lives. Founded in 1979, The Delaware Contemporary presents over 25 exhibitions annually of regionally, nationally, and internationally recognized artists that explore topical issues in contemporary art and society. More than 25 artists rent our individual studios and exhibit regularly within the museum galleries and throughout the region. 
The Delaware Contemporary presents a variety of educational and outreach programs, integrating contemporary arts into the public school curriculum, and artists' residencies that feature collaboration with underserved community groups. The museum is housed in a renovated industrial building at 200 South Madison Street in the heart of the growing Riverfront Wilmington.
The Delaware Contemporary Hours
Monday - CLOSED
Tuesday and Sunday 12-5
Wednesday 12-7
Thursday, Friday and Saturday 10-5
ADMISSION IS FREE
Suggested Donation: $10 Adults/$5 Kids under 18

200 South Madison Street
Wilmington, DE 19801
302.656.6466