Less than 20 minutes south of Wilmington is where you will find the historic town of New Castle, Delaware. This was the first place William Penn set foot on American soil. It served as a prominent place of government and the original capital of Delaware for many years. All that history is what makes New Castle the ideal place to celebrate Separation Day! 
What is Separation Day? 
While the entire country comes together to celebrate our independence on the Fourth of July each year, residents of Delaware have their own annual celebration – a celebration of their separation from not only Britian but from Pennsylvania as well. And this all happened a little over two weeks before the other 12 colonies joined in.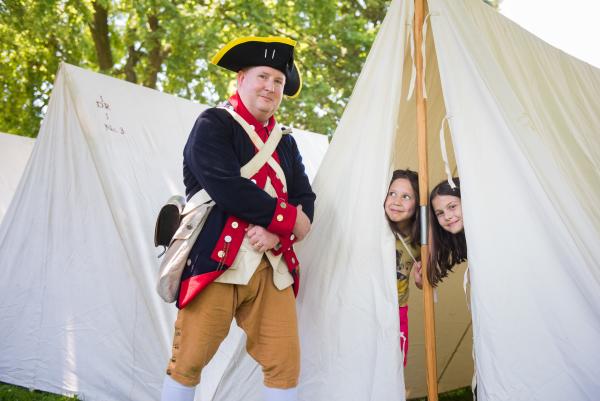 That very first Separation Day happened on June 15, 1776, and today we celebrate it on the second Saturday of June with all kinds of fun activities planned in and around the historic courthouse in New Castle.    
Local History 
William Penn first arrived in New Castle on October 27, 1682, but even that event was not the start of the deep history you will uncover throughout Historic New Castle. The history of the town dates back to 1651 when The Dutch, under Peter Stuyvesant, built Fort Casimir in the location of the present site of New Castle. Followed up by the Swedes capturing Fort Casimir on Trinity Sunday, renaming it Fort Trinity and much more. Make your way around the town and find local treasures like the New Castle Courthouse Museum and the Read House & Gardens to learn more about the history of Historic New Castle.
You will also learn about the courage that was required for this small town to lead the way to announce its independence.  
Event Schedule 
Separation Day will be held on Saturday, June 11, but the pre-party will start Friday, June 10, with live music, craft beer, wine, and food trucks coming out for a neighborhood block party in Courthouse Square. There is no charge for attending the pre-party, and there will be live music from What the Funk. This event takes place from 6 p.m.- 9:30 p.m.  
The official Separation Day festivities will then kick off with a parade on Delaware Street beginning at noon on Saturday. The parade is followed by the Festival and Vintage Market held in Battery Park where there will be live music all day from bands like Blues Cat Blues, Big Package and Blues Reincarnation Project. There will also be arts & crafts, lots of local vendors, and fun attractions for the kiddos. 
Following the day's festivities... end the evening with a grand firework display over the Delaware River beginning at 9:30 p.m.   
NEW This Year: Vintage Market  
While a party in the park is a good enough reason for most to head to historic New Castle, there will also be an added bonus for the shoppers: the new Vintage Market! 
The vendors will range from pickers, makers, shop keepers, collectors, bakers, chefs, organic product specialists, craftsmen, seamstresses, creatives, musicians, crafters, and artists. Whether it is handmade, hand-painted, up-cycled, or found, every find here is a unique treasure. 
Whether you are interested in the local history, free live music, or some of the best shopping in the state of Delaware, there is nothing quite like the Separation Day celebration you will find in New Castle on Saturday, June 11. Don't miss your chance to experience this Delaware tradition in the best way possible!