In just a few short weeks, the annual Holidays at Hagley celebration will be open to the public. This year's theme, "Treasures and Traditions," celebrates the little things in life that bring joy. Incorporated into the displays of Eleutherian Mills, the du Pont family's first ancestral home in Wilmington, will be personal items cherished by du Pont family members including poetry books, silk hand fans and reading spectacles. Holidays at Hagley will be open from November 24 through January 1, 2024 (closed on Christmas Day).  
Learn more about the ways you can make Hagley part of your holiday tradition with these festive events: 
Gingerbread House Contest 
Register Through November 10 
Enter Hagley's sixth annual Gingerbread House Contest, and your creation might win a fabulous prize. This year's theme is "Treasures and Traditions," which should be reflected in submissions. Use your imagination and capture the spirit of the season. All skill levels are welcome in three categories: adult/families, youth, and community partners. The deadline to register is Friday, November 10. Drop-off dates are November 18 and 19. Entries will be on display in the Hagley Barn throughout the holidays at Hagley. Winners will be announced on Tuesday, December 26.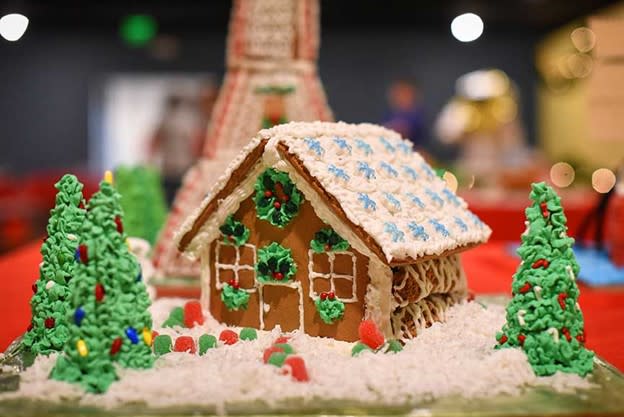 Santa Day at Hagley 
December 2: 10:30 a.m. to 3:30 p.m. 
He's making a list and checking it twice. Santa stops by the Hagley Barn for a visit on December 2. Visitors are invited to take a complimentary photo with Santa on their own device to share on social media or for their holiday photo card. Gingerbread houses will be on display for the annual Gingerbread House Contest. Find your favorites in each category, then cast your vote.  
Included with museum admission. Free for Hagley members and children 5 and younger.  

Holiday Nights at Hagley 
December 12, 14, 19 and 21: 4 to 7 p.m.  
See Eleutherian Mills dressed for the holidays and illuminated with softly glowing lights. Take an after-hours tour and experience the holiday decorations and traditions of multiple generations of the du Pont family. This year, Hagley Museum is celebrating the little things in life that bring joy during the holidays. Look closely to find items treasured by du Pont family members in the displays.  
Light refreshments will be served following the tours. Admission is $10 for Hagley members and $20 for non-members. Advance registration is required.   
Holiday Membership Promotion 
Beginning Friday, November 24 
If you have been considering a Hagley membership, now is the time. From November 24 through the end of December, Hagley is giving new members 14-month memberships for the price of one year. To join and receive this special offer, click here or visit Hagley! The Visitor Center or Hagley Store will have membership information available. Onsite membership purchases will include a mini-holiday teddy bear: two holiday gifts in one!   
Daylight savings time and Hagley winter hours are here!  Beginning Sunday, November 5, regular museum hours will be 10 a.m. to 4 p.m. daily.  
Happy Holidays from Hagley Museum and Library!