The Center for Creative Arts Center (CCArts) will soon transform into a marketplace of fine handcrafted gifts, just in time for the holidays, during their 42nd Annual Artisan Show. The show, sponsored by Mallard Financial, runs from Saturday, November 18, 10 a.m.- 5 p.m., and Sunday, November 19, 2023, 11 a.m.- 4 p.m.  
"It's one of our favorite times of the year!" stated Executive Director, Melissa Paolercio. "With a wide variety of artists, you can find exceptional gifts for everyone. Everything is handmade by local artists.".  
Forty-four artists, the majority of which are Delaware-based, will be selling handmade fine art and crafts including ceramics, jewelry, felting, turned wood, collage, leatherwork, paper crafts, painting and more. A raffle table with donated handcrafted items will help raise money for CCArts. Jay's Fil-Am Mobile Cuisine will be onsite to provide delicious refreshments.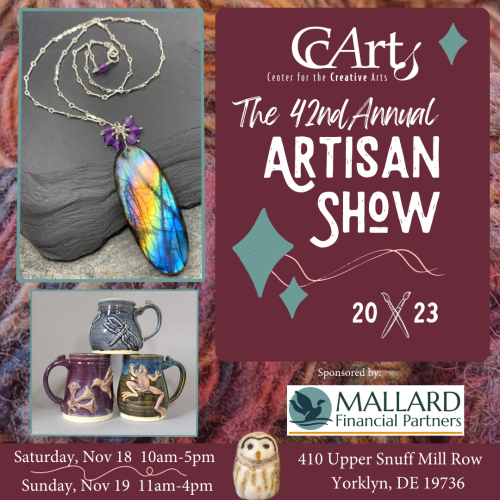 This year's emerging artists are: 
Katherine Celona (Moss &. Timber) 
Rachel Rohm (Knots and Notes by Rae) 
Robert Johnson (RFJ Pottery).  
In addition to the emerging artists the show will feature:  
Ann Alexandrowicz (The Soap is A Lye) 
Gregory Baldwin (Custom Glass Works) 
Elisabeth Bard 
Zachary Bloom (Zachary Bloom Jewelry Designs) 
Olya Bragger (Classic Elegance, LLC) 
Dan Breslow (Naturally Wood) 
Elisabeth Brown (Elisabeth Jönsson Brown) 
CCArts Ceramics Department 
Dimple Chatur (CreationsByDimple) 
David Ciafardo (DJC Metal Art) 
Betsy & Brad Conlan (2 B's in a Pod, LLC) 
Wendy Cotton 
Sue Ann Cox (The Fairy Potter) 
Sarah Dressler (ToadstoolsNTreestump) 
Inna Dzhanibekova (Small Joys Studio) 
Deanna Haldeman (Deramics Clay Studio) 
Julie Hazzard (A Peace of Color, LLC) 
Pam Horstmann (Painted Threads) 
Svetlana Howells (Svetlana Designs Jewelry) 
Carole Huber (Studio at the Villa) 
Michael Keith (Keith Woodworks) 
Brenda Kingham 
Mary Lou Lawlor (Mary Lou's Moonspire Designs) 
Sharon Livesay 
Greg Losco (Losco Glass, LLC) 
Michael McNelly (McNelly Fine Arts) 
Debbie Mitchell 
Dona Nicholas (Craft Hollow) 
Stephanie Przybylek (Creative Animal) 
Roberto Quintero Velez (Molas4u) 
Rachel Reinsfelder (StudioRites) 
Roberto Roque (Pluma Avis Domus) 
Adam Roush (Dueling Rabbits) 
Diana Laura Serrano Silva (Diana Luara Designs) 
Jessi Stead (Playthings Studio) 
Remy Sultanik (Remy's Woodshop) 
Sylvia Thiemann-Dale (Sylvia Dale Collection) 
Abe and Bonnie Warren (Handcrafted by Abraham Warren) 
LynnMarie Whitt (LynnMarie Whitt Jewelry) 
Eric Zippe (Eric Zippe Fine Art).  
The Center for the Creative Arts (CCARTS) is located at 410 Upper Snuff Mill Row and Rt. 82, Yorklyn, Delaware. For more information, visit twww.ccarts.org. CCArts is a nonprofit community art center that has been offering classes in the fine and performing arts for over 40 years as well as art exhibits, community celebrations and the popular Yorklyn Live: Open Mic Night. The summer program serves 1,000 or more children over eleven weeks each year and offers scholarships to students in need. CCArts is committed to their mission to transform, inspire, and enrich the lives of people of all ages and abilities through the arts. This program is supported, in part, by a grant from the Delaware Division of the Arts, a state agency, in partnership with the National Endowment for the Arts.