Whether you are an expert angler or a total newbie to fishing, Greater Wilmington and the Brandywine Valley have lots of great spots to catch fish. So grab your rod and tackle, pick up a Delaware fishing license, and get ready to cast a line! To set you up for a perfect day on the water, we've rounded up eight of our own favorite spots. Each has its own unique features so there is something on the list for every type of angler and experience level.
1. Augustine Beach
Located off scenic Route 9 where the Delaware Bay and River converge, this is one of a handful of spots where you can surf fish in northern Delaware. It is also a popular spot to fish by boat or kayak. This is an excellent spot to catch striped bass, especially during the fall and spring migrations. The catfish and white perch fishing are also very good here. And if you strike out with the fish, the views here will not disappoint.
2. Becks Pond
This reservoir, which is just over 25 acres, is one of New Castle County's most popular fishing spots. Anglers fish from boats and from the shoreline. The many deep holes throughout the pond create the perfect hiding spots for some really big fish. It is home to a healthy population of largemouth bass as well as white and black crappie, sunfish, bluegill and more. If you get really lucky, you might catch a yellow perch. Just outside of the town of Bear, Becks Pond also has a nice picnic area. That will come in handy when you work up an appetite catching all those fish!
3. Bellevue State Park
This former du Pont estate right outside of the City of Wilmington is the perfect place to take the kids fishing. Its grounds include a large catch-and-release pond stocked with bass, catfish and sunfish. For those just learning, the park hosts a three-hour "Intro to Fishing" that teaches all the basics. Experienced anglers (or newbies that want to dive right into the sport) will want to check out the park's Fishing Camp. This cool experience involves traveling to different fishing sites each day (including an offshore charter boat trip). Campers learn about fresh and saltwater fishing, fly fishing, fishing ethics, safety, and fishing techniques. Sounds like a blast! Check Bellevue's calendar for upcoming dates.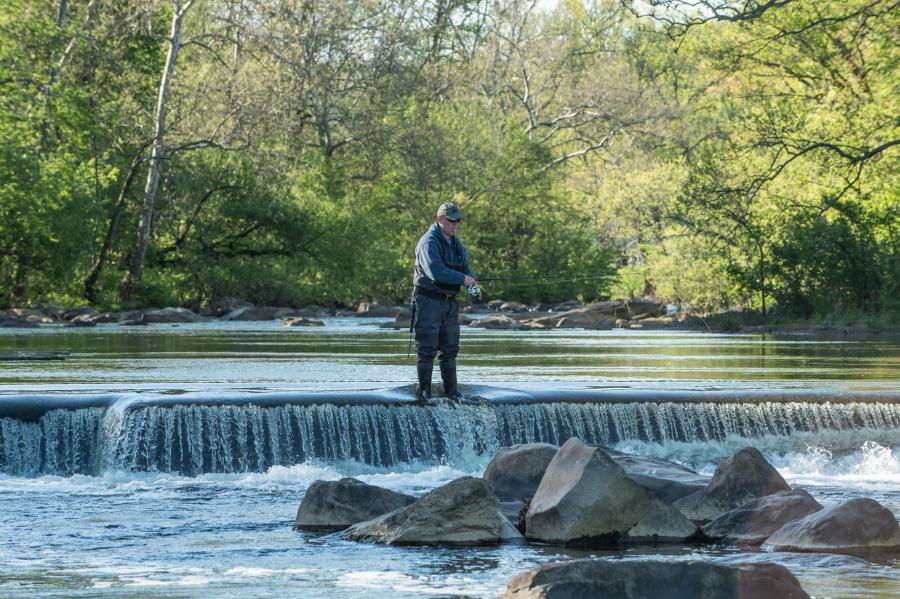 4. Brandywine Park (pictured above)
Located within the city limits of Wilmington, this park offers easy access to Brandywine Creek and the many types of fish that live and spawn here. According to a piece fishing afficionado Jeff Taviano wrote for the News Journal, the shallow rapids that start just past the North Market Street Bridge offer some of the best fly fishing in the state. He adds that two state record muskies have been caught here. You also might find American shad, white perch, yellow perch, largemouth bass, or pickerel on the end of your line.
4. Brandywine Creek State Park
Every year, Wilson's Run – which runs through the park – is stocked with tons of rainbow and brown trout . . . including some trophy-sized ones. It is one of the best trout fishing spots in the state. To find this stream, which is just over two miles long, head to the main entrance of the park off Adams Dam Road near the towns of Greenville and Centreville. In addition to a fishing license, you will need a trout stamp to fish here. And be sure to stick to the six trout per person limit! If you hit Wilson's Run on the right day, you'll have your limit in no time! You can also fish for small mouth bass, bluegill, and crappie in the park.
6. Lums Pond State Park (pictured at right)
Want to catch that trophy bass that will earn you big bragging rights? Well, you might want to head to Lums Pond State Park. Located just off Route 71 in Kirkwood, the park's pond is home to at least a few monster bass. In fact, the state record striped bass hybrid was caught here, weighing in at 13 pounds and 13 ounces. It is the largest freshwater pond in Delaware and considered to be one of the best freshwater fishing spots in the state. Crappie, bluegill, perch, pickerel, largemouth bass, and striped bass reside in its waters. You can fish from the shore or by boat. And if you don't have your own boat, you can rent one (the non-motorized kind) here. Stack the odds of catching the big one in your favor by staying over in the park's campground and fish for several days.
7. Reedy Point
Reedy Point is where the Chesapeake and Delaware Canal converges with the Delaware River. The jetty here is a popular spot for catching striped bass. You can also hook white perch, catfish and carp. Just off Delaware's Bayshore Byway (Route 9), this area also offers up stunning scenic views and million-dollar sunsets.
8. White Clay Creek
The White Clay Creek National Wild and Scenic River flows through Pennsylvania and northern Delaware. The college town of Newark, Delaware is located at the southern end. If you like fly fishing for trout, you definitely want to pay a visit. Rainbow trout, brown trout, brook trout, palomino trout, and golden trout are all stocked here. The state record rainbow trout, 11 pounds and 10 ounces, came from its waters. You can also catch smallmouth bass and carp. While bait fishing is welcomed on some stretches of the creek, it is fly fishing only 25 yards above Thompson's Station Bridge on Chambers Rock Road to the Pennsylvania state line.
One of the best parts about fishing is that you never know what you have on the line until you reel it in. Who knows? You may catch the next state record fish. But even if you catch no fish at all, fishing the scenic waters of Greater Wilmington and the Brandywine Valley is a fabulous way to spend the day. We invite you to come cast you line, immerse yourself in the natural world and escape stress, work and deadlines for a while. For all you need to know before you go, check out the Delaware Fishing Guide. For details on accommodations, restaurants and things to do when you are not fishing, visit www.visitwilmingtonde.com.