The holiday season is filled with the hustle and bustle of holiday parties and last minute shopping, but it is also a great time of year to take time out to spend with the people we truly love. One of the best ways to do exactly that is with a romantic dinner for two at one of the many amazing restaurants you will find here in Wilmington, Delaware. 
And, if you're visiting Wilmington during the holiday season, spending a great night out on the town with your significant other – away from extended family - is the perfect way to enjoy the holidays while also recharging the spirit of your relationship. 
So, with that in mind, here are five of our favorite spots to enjoy a romantic holiday season dinner!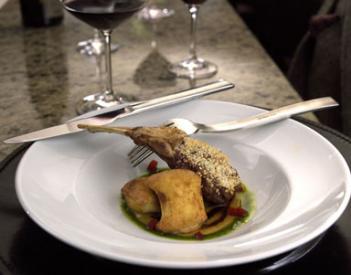 Domaine Hudson
If you're looking for classic romantic dining, the deep-red drapes, the sophisticated service, the impressive wine list, Domaine Hudson is it. Chef Dwain Kalups style of cooking matches the dcor, elegant and sensual, with layers of flavor and contrasting textures on every plate. Domaine Hudson is the kind of place you go to pop the question, celebrate a milestone event, or celebrate someone special in your life. And, Domaine's owners Mike and Beth Ross are absolutely obsessed with fine wine, and it shows in their continual appearance on Open Table's "Best Wine List, Greater Philadelphia". Call in advance, and get a quiet table in the corner for your special holiday dinner, says Maitre d Javier Matamoro.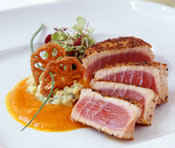 The Green Room at Hotel Du Pont
The ambiance at The Green Room at Hotel Du Pont will transport you and your significant other to another time with its beautiful oak paneled walls, thick and heavy curtains, and shining gold chandeliers. But don't let these grand decorations overshadow the fact that the food here is among the best-of-the-best. 
Recognized with the AAA Four-Diamond Award and Forbes Four-Star Award, the Green Room offers the finest French cuisine, un-rivaled service and to-die-for desserts. Try the Pan-Roasted Halibut, Wild Caught Cedar Plank Salmon or Venison Loin Wrapped in Pepper Bacon, you will not be disappointed.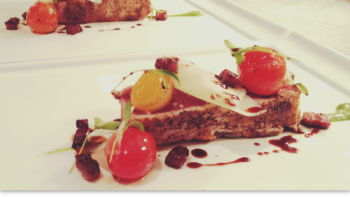 The House of William and Merry
One of the most interesting dining experiences in all Greater Wilmington is The House of William and Merry, which is in an old farmhouse that was originally built in 1922. Dinner here feels much like you are heading over to a friend's house, except the food is a lot better and you don't have to bring a gift!
The best way to order at The House of William and Merry is to simply ask Chef William what he recommends on that day as his menu is ever-changing and recipes are prepared from the freshest seasonal ingredients procured from local farms.
Krazy Kat's Restaurant
Keeping with the theme of great restaurants in unique locations, Krazy Kat's restaurant is an old blacksmith's shop that has found new life as one of the favorite dining experiences for many Wilmington residents. You will find an interesting mix of new and old here with everything from tiger-print chairs, portraits of cats and dogs, and even one of the original forges from the time when the building was a blacksmith's shop. 
As for the menu at Krazy Kat's, it depends on what local ingredients are in season, keeping the selection fresh and dishes changing. There is always a great selection of seafood options to choose from, as well as steak and chicken dishes. On top of that, there are usually some more interesting selections as well that might include veal, lamb, or duck.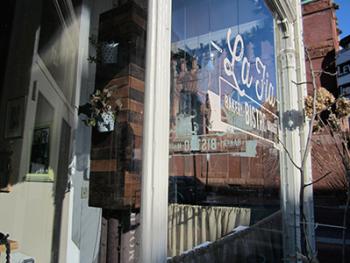 La Fia
La Fia is one of the trendiest locations for a romantic holiday season dinner in Wilmington. Owner Chef Bryan Sikora has put together a constantly evolving menu of delicious small plates that are locally sourced and made with sustainable ingredients. 
Dinner here could simply include a selection of appetizers like Roasted Beets, Pan Seared Scallops, and Seared Foie Gras, or you could dive into the entree portion of the menu, where you will find choices like Handmade Cavatelli, Grilled Hanger Steak, Pan Seared Crispy Skin Pocono Trout, and Glazed Veal Cheeks.
Whatever your liking and wherever you choose, we recommend making a reservation as each of these Wilmington area restaurants can fill up quickly during holiday season. And, to make the evening extra special we also suggest visiting one of the area's amazing holiday displays after dinner.