Greater Wilmington, Delaware is where I grew up. 
My name is Virginia DeWees. I was born and raised in Greenville, Delaware, attended Wilmington Friends School from kindergarten through high school, and left the area for college … but I keep finding myself coming back to this lovely town with my darling fiancée, Rebecca Neill. You could say. the Greater Wilmington area has secured a special place in my heart.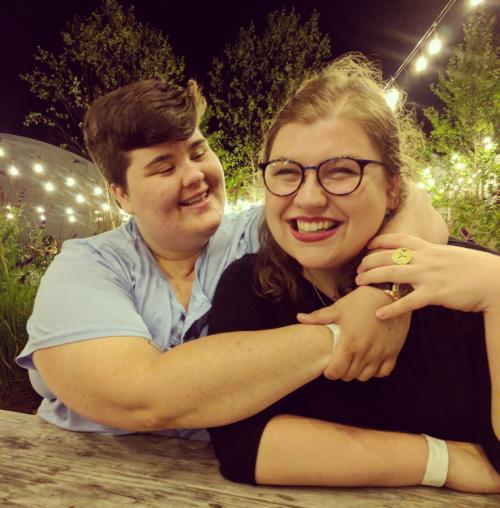 Greater Wilmington is a safe and welcoming place for all people. 
We always feel welcome as an LGBTQ couple here due to the friendly people, accepting businesses, and inclusive legislature. Rebecca and I never feel anything less than welcome and loved when we visit home to explore the attractions throughout Greater Wilmington.  
Greater Wilmington is where I fell in love. 
Rebecca and I had both just graduated college; Rebecca was living in Washington D.C at the time, and I was saving some cheddar by living with my parents in the gorgeous Brandywine Valley. In our first few months of dating, Rebecca would leave her tiny, cramped apartment to meet me two hours north and explore the novelties that Greater Wilmington had to offer. From art museums to gorgeous parks to hike, the area was the perfect backdrop for our emerging love story. 
Greater Wilmington was the perfect location
for so many of our first dates. 
For date number two, we kicked our shoes off and felt the sand between our toes at Constitution Yards on the Wilmington Riverfront, a relaxed and welcoming vibe for sure. I started to notice something was special about Rebecca when I introduced her to my parents at one of the Field to Fork dinners at SIW Vegetables in Chadds Ford, just over the border into the Pennsylvania side of the Brandywine Valley. Rebecca continued to steal my heart when we went on double dates with my hometown friends to The Creamery in Kennett Square, Terrain, Brew HaHa (Rebecca's beverage of choice is the Iced Snickers Latte, decaf, and mine is the Thai Iced Coffee, extra caf!), and, of course, the amazing and beautiful Longwood Gardens.  
Greater Wilmington is where we keep coming back to spend cherished time with family, friends, and each other. 
We love where we live now in South Jersey, but there is something special about the Greater Wilmington area that keeps bringing us back for frequent visits and adventures. One of our favorite ways to spend time with loved ones is through a good meal and, boy, are there some stellar options in Greater Wilmington! From sushi at Le Shio to pizza at Pizza by Elizabeths to molcajetes at Taqueria Moroleon, we can always find the right place to satisfy our cravings and share laughter with others. Another way we like to spend time at home is through exploring the various hiking trails in the Greater Wilmington area. We love to take my parents' pups through Brandywine State Creek Park or just a quiet, peaceful walk along the Jack A. Markell Trail with a stop for vegan ice cream at Drop Squad Kitchen, of course! 
Greater Wilmington is where
Rebecca and I will be tying the knot. 
We are so grateful for the memories we have created so far in the Greater Wilmington area. So much so, that we will be having our wedding this October at the very place Rebecca met my parents… SIW Vegetables! We look forward to creating many more memories in this beautiful nook of the world!