Longwood Gardens, the award-winning botanical garden, lies just over the Delaware state line in Chester County, PA – part of the historic Brandywine Valley.  This fan favorite is a can't miss for  Greater Wilmington residents and visitors alike throughout the year.  
This year, warm up to winter  with colorful floral displays inside Longwood's lush Conservatory during their Winter Wonder season, on view Saturday, January 21 through Sunday, March 26.  In addition to the horticultural splendor, Winter Wonder offers the chance to learn a new skill with Longwood's unique lineup of educational opportunities and captivating performances.  The Gardens are open from 10 am–5 pm every day except Tuesdays. To purchase tickets, visit longwoodgardens.org.  
Horticulture Highlights 
Those looking for an exotic trip can escape to Longwood's Conservatory where nearly two acres of gardens under glass feature a variety of blooming plants from around the world—see vibrant Streptocarpus 'Concord Blue' hanging baskets, mysterious Zamioculcas zamiifolia 'Dowon' Raven, and towering Clerodendrum schmidtii (chains-of-glory), whose abundant cascading blooms delight throughout the season.  
In addition, the Orchid House bursts with colorful standouts from Longwood's expansive collection. The display features nearly 300 blooming orchids, which change week to week as new orchids come into bloom. In March, the striking and unusual plant, Echium wildpretii, 'tower-of-jewels', graces the Conservatory and Longwood's famed blue-poppy (Meconopsis 'Lingholm') returns. Native to the high elevations of the Himalayan Mountains, Longwood's talented horticulturists use precise techniques to force the blue-poppies to flower in March. The substantial petals are a mesmerizing sky-blue color and are must-see. 
Outdoors, winter's subdued beauty illustrates how plants can be used for both aesthetic and habitat benefit. Stroll among the serene landscape of the Hillside Garden or reflect among a symphony of copper and umber hues in the 86-acre Meadow Garden.  
Science Saturdays and Classes 
New for 2023, join Longwood's talented staff for a behind-the-scenes look at some of the many plant research and conservation projects the teams work on at Longwood and around the globe during Science Saturdays,  January 21, February 18, and March 18. Each Science Saturday includes a 1 p.m. talk by a Longwood expert on a specific topic followed by the chance to see some of the plants connected to Longwood's research efforts.  
Topics include Reading the Landscape (January 18), Plant Exploration Around the World (February 18), and Plant Collections: Clivia (March 18). Science Saturdays are free with Gardens Admission. 
For those looking for more in-depth plant knowledge or interested in improving their gardening skills, Longwood offers several classes for beginners and more seasoned gardeners alike. Classes throughout the winter months include Pruning 101, Floral Design, Plant Propagation for Beginners and more.  
Performing Arts and Exhibitions 
There is no more inviting venue than Longwood's lush Conservatory to enjoy a live performance. A stellar winter lineup features renowned artists in classical, jazz, and organ music for those looking to expand their musical horizons. Highlights include: from Beat to Bird, Emi Ferguson and Rukus, and chairman of The Julliard School's organ department and celebrated organist Paul Jacobs. Special tickets are required for these performances. 
Beginning March 1, take a powerful journey through the gardens as the exhibition Voices in the Landscape: Deeply Rooted with Storyteller Charlotte Blake Alston returns. Encompassing 10 audio stops in both the indoor and outdoor Gardens, Alston honors and celebrates the strength, resilience, and contributions of the African American community through the lens of horticulture and the power of story. This year the exhibition features new original content for children at select stops.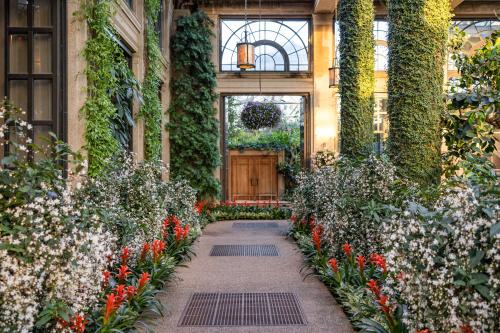 Photo Credit: Becca Mathias and Longwood Gardens
Whether visiting for a day or turning days off into a winter getaway ... a stop at Longwood Gardens is a CAN. NOT. MISS.  
Above Photos Credited to Bob Doerr.