In the late 1800s, Harriet Tubman and other "conductors" led escaped enslaved people from the South to safety in the North via the Underground Railroad. One of the last stops before reaching freedom was northern Delaware. Celebrate this region's African American heritage during Black History Month (February) and all year long by retracing their footsteps. You can also celebrate the many cultural and artistic contributions of the African American community in Greater Wilmington and the Brandywine Valley with these experiences:
The Harriet Tubman Byway is an inspiring road trip that includes more than 45 historically significant sites related to the Underground Railroad. It begins on Maryland's Eastern Shore and includes 98 miles through Delaware. Sites in northern Delaware, from south to north, include:
1. The Corbit-Sharp House

The town of Odessa, where the house is located, was home to Quaker, abolitionist, and free black communities that all offered secret help to escaped slaves. Those that were aided included a man known only as Sam, a fugitive slave who approached the Corbit-Sharp House for help in the 1840s. The house was the home of Quaker abolitionists Daniel and Mary Corbit. Mary cleverly hid Sam in a second-story crawl space above her stairwell, preventing a sheriff's posse from discovering him. At dusk, Daniel Corbit provided Sam with food and money and sent him north.
2. The New Castle Court House Museum

Two of Delaware's most prominent abolitionists and Underground Railroad stationmasters, Thomas Garrett and John Hunn, were tried and convicted here for aiding the successful 1845 escape of the Hawkins family from slavery in Maryland. The conviction did not stop Garrett. He continued to assist fugitives until the beginning of the Civil War. Harriett Tubman passed through this station many times.
3. Tubman-Garrett Riverfront Park

The park, on Wilmington's Riverfront, honors Harriet Tubman and Thomas Garrett. Born a Quaker in Pennsylvania in 1789, Garrett helped an estimated 2,700 enslaved people escape to freedom over four decades. Born into slavery, Tubman escaped and subsequently made some 13 missions to rescue approximately 70 enslaved people. During the Civil War, she served as an armed scout and spy for the Union Army. In her later years, Tubman was an activist in the movement for women's suffrage. The park's sculpture, "Unwavering Courage in the Pursuit of Freedom," was added in 2012 as a tribute to their unwavering bravery and dedication to the cause.
The park overlooks the Market Street crossing of the Christina River, the main southern entry into Wilmington during the 19th century. Tubman and her charges were once trapped on the south side of the river by those on the lookout for them. Garrett sent over a false-bottomed wagon, driven by African American bricklayers, who concealed the group beneath a load of bricks. They successfully passed over the bridge unnoticed.
4. The Delaware History Museum

The Wilmington campus, on Market Street downtown, features the Old Town Hall and the Mitchell Center for African American Heritage.

The Old Town Hall played opposing roles in the movement to abolish slavery. It briefly hosted Abolitionists' meetings but was also once used to confine captured freedom seekers before they were returned to their enslavers.

The Mitchell Center houses the "Journey to Freedom" exhibition, featuring the stories of those who risked their lives to help others to freedom. In a broader scope, it presents the story of African Americans' struggle for human rights and dignity in Delaware and the nation, from the founding of African Methodist churches to Brown v. Board of Education to the story of Antoni Swart, Delaware's first documented black resident. Significant achievements of African Americans from Delaware and beyond, including the Reverend Peter Spencer and Louis L. Redding, are also honored here.
African Americans are at the very fiber of Delaware's music and arts scene. Three of the most noteworthy who have hailed from – or spent significant time in – the Greater Wilmington area are: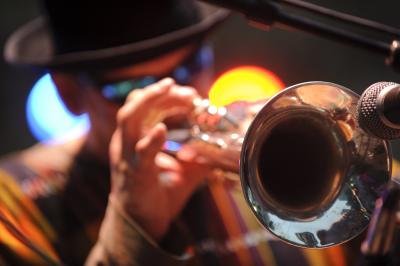 1. Clifford Brown (October 30, 1930 – June 26, 1956)
Brown was a trumpeter and one of the most influential jazz musicians of the mid-20th century. Born in Wilmington, he was playing in Philadelphia with pioneering jazz performers such as Fats Navarro, Dizzy Gillespie, and Charlie Parker by the age of 18. He tragically lost his life in a car accident at just 25, but his music lives on.
The Clifford Brown Jazz Festival, held annually in Wilmington's Rodney Square, is the largest free jazz festival on the East Coast. It features musicians from all over the world and is slated to take place in downtown Wilmington during the summer months. 
You can visit Brown's grave in Wilmington's Mt. Zion Cemetery. Just look for the historical marker.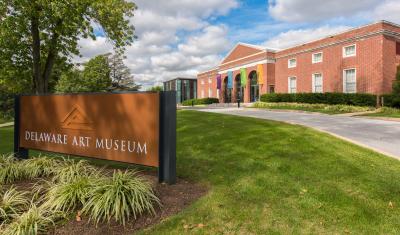 2. Edward Loper (April 7, 1916 – October 11, 2011)
Loper was an artist from Delaware, best known for his vibrant palette and juxtaposition of colors. He taught painting for almost 70 years. In 1937, Loper became the first African American to have a painting accepted by the Wilmington Society of the Fine Arts (now the Delaware Art Museum). The University of Delaware inherited all of Loper's works in his possession at the time of his death. His paintings are in the local permanent collections of the University of Delaware's Paul R. Jones Collection of African-American Art, the Delaware Art Museum, the Biggs Museum of American Art, and the Christina Cultural Arts Center among many others nationally.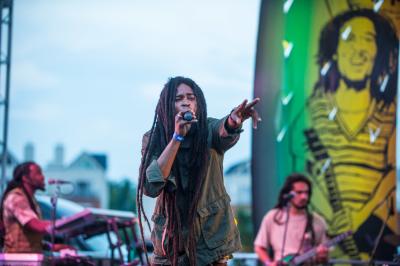 3. Bob Marley (February 6, 1945 - May 11, 1981)
Though reggae giant Bob Marley hailed from Jamaica, Wilmington was also his home for a time. He moved here with his mother from Jamaica and lived here off and on between 1965 and 1977. The home in which he resided still stands on Tatnall Street. He also held several jobs in Greater Wilmington including a position at the Chrysler Assembly Plant. "Night Shift," which he wrote in 1976, is said to have been inspired by his forklift driving job here.
The People's Festival, held in downtown Wilmington, pays tribute to the artist and the contributions he made to his genre and the world. Click here for the latest information on future dates.  
Another way our region pays homage to our deep African American roots is through events and festivals that let you experience the culture first-hand.
One of these celebrations is the August Quarterly, the oldest African American religious festival in the nation! It commemorates the founding of the Union Church of Africans, the first African American Church in Wilmington and in the U.S. which was independently incorporated in 1813. This event, which began in 1814, became a kind of Independence Day for Black people on the Delmarva Peninsula. Today, it is a time for African American people to gather and share their heritage through music, crafts, singing, preaching, stage performances, children's events, storytelling, back-off, arts and crafts, and food. For the latest August Quarterly information for 2022, click here. For information on more of the region's many cultural events, click here.
After you've immersed yourself in African American history and culture, be sure to check out the innovations and creations of our African American community at these Black-owned businesses, from award-winning restaurants and art galleries to hip boutiques and artisan markets:
Celebrations on Market
This restaurant and event facility features Afrocentric cuisine that is inspired by chef Marc-Antony's Southern roots and time spent in Florida, Mexico and The Caribbean. Give it a try! You will not be disappointed. The food here is delicious. The jerk chicken is fabulous.
Charlie Rose Sweets
The name of Charlie Rose Sweets is a bit deceptive: they dish up delectable creations that are sweet AND savory. You can pick up single-serve portions or meals for a crowd. All of it is super yummy. On the sweets list, the Strawberry Crunch Cake has us doing backflips. When it comes to savory, the seafood lasagna is #1 on our list.
Drop Squad Kitchen
This vegan restaurant is everything you do not typically associate with vegan food. It is filling. It is super flavorful. And you won't even know you are eating vegan. Here, indulge in the Chip Hop:
chili and plant-based taco "meat" on a bed of hard taco shells with avocado, kale, pico de gallo, and a drizzle of sunflower ranch dressing. Top it off with a cup of refreshing Rose Quartz tea.
Green Box Kitchen
With locations on Market Street and in the DE.CO food hall, this cozy dining spot features a healthy, approachable, and tasteful plant-based menu while maintaining strong roots in local philanthropy and social change. The soundtrack here is great too . . .
The Juice Joint
One of the newest additions to the Wilmington Riverfront, the Juice Joint serves up individually prepared cold-pressed juices, smoothies, salads, fancy toasts and our favorite . . . smoothie bowls. We suggest the Dragon Base (dragon fruit, banana, pineapple, coconut milk, granola and your choice of three toppings).
Milk & Honey Café & Gallery
This community coffee house and art gallery has two locations: one on Market Street downtown and another in Wilmington's Little Italy neighborhood. The house-blended coffee is excellent. Visits to both locations are also excellent opportunities to take in the unique vibe and diverse culture of these two very different neighborhoods.
Morgans of Delaware
The carefully curated fashions at this womens' boutique have been attracting discerning fashionistas for decades. Whether you are looking for something formal, business attire, or something to lounge (fashionably) around the house in, you will find it here. Not sure what looks good on you? Ms. Martha will not steer you wrong!
The Sold Firm
Nestled in downtown Wilmington's Creative District, this gallery features a stunning collection of works by modern and contemporary visual artists. Every exhibit thoughtfully addresses a diverse range of cultural subject matters.
Town & Shore Handcrafted
Designer Liv McClintock is a self-taught leather craftswoman. Her handmade clutches are simply stunning. She also designs jewelry and other accessories. Until recently, her goods were only available online, but we are excited to announce that she is opening a boutique on Market Street in the very near future!
Walt's Flavor Crisp Chicken
Fried chicken, macaroni and cheese, collard greens … sound good to you? Then head to Walt's. Its proprietary family recipe for fried chicken is a closely guarded secret. This small, primarily takeout spot has been drawing people near and far for its lip-smacking good Southern food for years.
We invite you to come experience our African American history, culture and creative arts first-hand.
For assistance in planning your trip, go to www.VisitWilmingtonDE.com. Our helpful and knowledgeable travel experts are also happy to provide you with tailored assistance via the live chat on our website.
If you want to even deeper, check out these additional resources for a wealth of information on Delaware's African American heritage and experiences:

We hope to see you soon.