World-class chefs are bringing international food concepts to 1313 North Market St., as Wilmington's highly anticipated dining destination, Chancery Market Food Hall & Bar, prepares for a Fall 2022 opening. The 12,000-square-foot culinary collective and unique indoor/outdoor bar will feature dining experiences from around the world, thoughtfully curated by HQ Hospitality co-founder and award-winning chef Akhtar Nawab. Visitors will get to enjoy vibrant flavors and try dishes from renowned chefs and up-and-coming local culinarians.   
Among the concepts coming to Chancery Market is New York City's favorite fried chicken joint Fuku. What started as a secret sandwich at David Chang's Momofuku Noodle Bar has since grown to serve a variety of fried chicken offerings and sides in an upbeat, fun, and energetic fast-casual concept. 
Also joining the roster at Chancery Market are Rooted AF, a quick-service vegan experience offering unique multicultural fare, herbal products, fresh cold-pressed juices, and smoothies; and Kati Roll Wala, serving up authentic Indian cuisine composed of delicious Indian street food staples such as Kati Rolls and Rice Bowls.  
Hospitality HQ (HHQ) will oversee all management and operations of Chancery Market, from vendor curation and relations to day-to-day logistics and guest services. HHQ is seeking a few additional concepts to round out the diverse group of vendors at Chancery Market. In particular, Nawab encourages vendor applications from minority-owned businesses and talented culinarians who create various styles of global cuisine with reimagined specialties. 
"We're thrilled to bring such an exciting new array of dining offerings and culinary experiences to the Wilmington community," said Chef Nawab. "Our goal is for our kitchens to serve as a springboard for talented, local vendors looking to take their businesses to the next level and to create a thriving communal space where visitors feel welcome."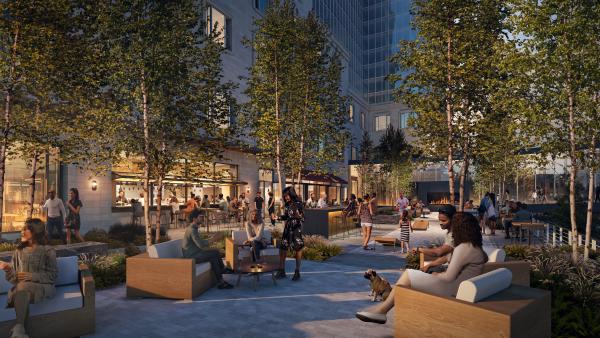 Open seven days a week, Chancery Market Food Hall & Bar will include both shared and private dining space, seating for 233 people, and the lively indoor/outdoor Nectar Bar. A newly created 10,000-square-foot communal plaza will feature outdoor dining and co-working areas with seating for 150, lush green gardens and landscaping designed by the Delaware Center for Horticulture, as well as activities and games for families and visitors. Ample onsite garage parking will be available, with parking incentives for those who dine at Chancery Market.  
"Chancery Market represents the start of exciting redevelopment projects for 1313 N. Market and 1201 N. Market," said Scott Johnson, representing ownership of 1313 N. Market and TSG Hospitality LLC. "As our tenants continue to return to the office environment, Chancery Market and the adjacent outdoor plaza will be an exciting amenity for professionals in the city, as well as a welcoming gathering place for our wider community and visitors." 
Interested vendors are encouraged to apply immediately for more information by filling out the contact form on the Chancery Market website.
About Hospitality HQ (HHQ): Hospitality HQ (HHQ) is a Brooklyn-based creative consulting and management group offering bespoke solutions for culinary-driven concepts across the United States. Led by award-winning chef, restaurateur, TV personality and cookbook author Akhtar Nawab, HHQ's dynamic and comprehensive team prioritizes high-quality service at all levels, producing systems for food and beverage concepts which consistently optimize the guest experience. HHQ is the fastest-growing food hall management company in the country, with critically acclaimed restaurant and communal dining projects in more than 15 states.  
About TSG Hospitality LLC: TSG Hospitality LLC is the principal organization at the helm of numerous redevelopment projects that are planned for 1201 N. Market St. and 1313 N. Market St. in downtown Wilmington's Central Business District. TSG Hospitality principal Scott Johnson brings more than 30 years of experience in real estate planning, acquisition, development, financing, leasing, and property management. TSG is passionate about bringing spaces and amenities that help businesses thrive, and help the community be more productive and prosperous.