Delaware Theatre Company has announced its 2017/2018 season, the professional company's 39th season in Wilmington, Delaware, including three regional premieres and one world premiere!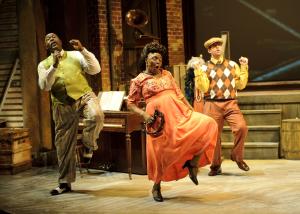 "What makes me most excited about this season is the diversity of stories and actors on our stage. Audiences will be in awe as a popular novel (turned musical) transports them back to their childhood; as a one-man show makes them question what society once considered just; as three actors juggle all 37 Shakespeare plays in 97 minutes; as two strangers electrify the theatre in a playfully uncertain sparring match; and as Freda Payne and Maurice Hines bring the astonishing Ella Fitzgerald to life", says Martin. "It is my mission to provide our patrons with productions that examine the human condition, while still providing accessible and memorable experiences - and I know this season accomplishes just that".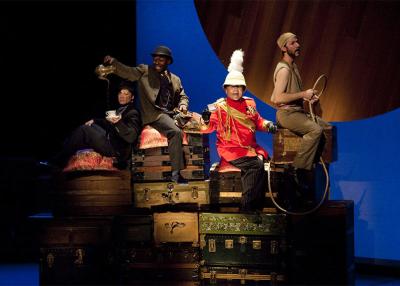 Performances and readings are held at DTC's intimate, 389-seat theatre, located at 200 Water Street in Wilmington, Delaware, just feet from the beautiful Wilmington Riverfront. Subscriptions to the 2017/2018 season are on sale and start as low as $160 for a five-show package, a 20% savings off the cost of individual tickets. "Who would turn down Broadway quality theatre for as little as $32 a ticket?" says Martin. Need another perk of subscribing? Subscribers can join Delaware Theatre Company's artistic staff at a series of invited readings.  For no cost, subscribers are welcome to sit in on the artistic process of selecting a season, by experiencing professional actors reading scripts of potential candidates for our upcoming season.
To purchase a subscription, or for further information, visit Delaware Theatre Company's website at www.DelawareTheatre.org or call 302-594-1100.

Delaware Theatre Company's
2017/2018 season:

SOMETHING WICKED THIS WAY COMES - World Premiere!
September 13 - October 8, 2017
Based on the novel by Ray Bradbury
Music and Lyrics by Neil Bartram
Book by Brian Hill
Directed by Rachel Rockwell
1938. A small town. A mysterious carnival. And two boys bent on escaping the midway of life to find adventure, and themselves. The hypnotic power and dark poetry of Ray Bradbury's classic novel Something Wicked This Way Comes sings and seduces in this bold new musical.
DARE TO BE BLACK - Regional Premiere!
October 25 - November 12, 2017
Written and Performed by Tommie J. Moore
Directed by Bud Martin

Before Muhammad Ali and Sugar Ray Leonard, there was Jack Johnson. He captured the hearts—and in some cases the hatred—of crowds. Although it's more than a century since Johnson stepped into the ring for that blockbuster bout, his quest for equality has never seemed more timely.
COMPLETE WORKS OF WILLIAM SHAKESPEARE ... ABRIDGED
November 29 - December 17, 2017
By Adam Long, Daniel Singer, and Jess Winfield
Directed by Steve Tague
All 37 Plays in 97 Minutes! An irreverent, fast-paced romp through the Bard's plays. Join these madcap men in tights as they weave their wicked way through all of Shakespeare's comedies, histories and tragedies in one wild ride that will leave you breathless and helpless with laughter.

HEISENBERG - Regional Premiere!
February 7 - 25, 2018
By Simon Stephens
Directed by Bud Martin

Amidst the bustle of a crowded London train station, Georgie spots Alex, a much older man, and plants a kiss on his neck.  This electric encounter thrusts these two strangers into a fascinating and life-changing game. Heisenberg brings to blazing, theatrical life the uncertain and often comical sparring match that is human connection.
ELLA: FIRST LADY OF SONG - Regional Premiere!
April 18 - May 13, 2018
Conceived and Directed by Maurice Hines
Book by Lee Summers

The astonishing virtuosa Freda Payne brings the First Lady of Song to life with an elegance, grace, resonant beauty, and transcendent voice that captivates the immortal Ella Fitzgerald. ELLA simmers, shines, and soothes.
Special Presentations
GO FIGURE!
The Randy Gardner Story
Written and Directed by Josh Ravetch (Writer and Director of Carrie Fisher's Wishful Drinking)
January 18-28, 2018

Funny, touching, and utterly irreverent. GO FIGURE navigates the astonishing world of figure skating, watched by more viewers than any other event at the Winter Olympics. Starring World Champion figure skater RANDY GARDNER and his skating partner of 45 years TAI BABILONIA; along with Olympic figure skating royalty, gold medalist DOROTHY HAMILL, GO FIGURE will be the perfect "warm-up" for 2018's Winter Olympics

SPECIAL EVENT - OVATION! WINE FEAST
October 14, 2017 at 6pm at the Delaware Art Museum

Delaware Theatre Company continues its hugely successful Wine Feast this year on October 14, 2017.  An intimate evening of art and wine will allow attendees to get an inside look into the theatre company while tasting popular wine and food. Last year's event attracted over 400 attendees and raised over $115,000 for the theatre's artistic programming. Ticket prices range from $75-$250.

SPECIAL EVENT – 5TH ANNUAL PLAY A PART GALA
March 3, 2018

A unique and intimate evening of philanthropy and theatre with a headliner to be announced.  Previous headliners include Governor and Mrs. Jack Markell, the electric Maurice Hines, and the ever stunning Christine Ebersole. Ticket prices range from $75-$250.