Winter may not seem like the best season to dine outdoors. But anyone wanting to get out of their own kitchen or eat something other than take-out, won't let the cooler months keep them from enjoying the diverse, flavorful, and award-wining restaurants Wilmington and the Brandywine Valley have to offer. Several Greater Wilmington establishments have created safe, yet intimate and welcoming dining experiences that allow guests to enjoy the outdoors even in the harsh winter. 
Wilmington's downtown area is filled with rich history, multiple centuries of architecture and a ton of mouth-watering dining options. Right in the heart of the area lies Bardea Food & Drink. This local favorite, a James Beard Foundation award nominee, is always surprising its patrons with new, innovative modern Italian cuisine. And now they have taken to the Market Street sidewalks allowing guests to sit distanced, tented and under the warmth of heaters.  
Be on the lookout... Bardea Steak is coming soon!  
From Bardea, follow Market Street to Wilmington's Riverfront for outdoor recreation, a gorgeous view of the Christina River and plenty to eat! Here you can sit comfortably and spaciously with heat lamps and more.  
If you're a Blue Hen, a fan, or just visiting this college town, take a leisurely stroll down Main Street with eyes on Café Gelato for dinner. Here they are taking an innovative approach to winter outdoor dining with heated Greenhouses! Each of two 8' x 6' heated greenhouses can accommodate one dining party. These glass enclosures are perfect for reconnecting with your loved ones over a bottle of wine in an intimate, warm, and relaxed setting. Reservations are recommended.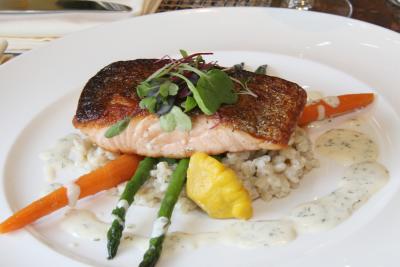 Centreville, in the heart of Delaware's Chateau country is another great choice for distanced outdoor dining. After building an appetite walking the grounds of nearby Winterthur Museum, Garden & Library, a former du Pont family estate, enjoy the heated outdoor patio at Buckley's Tavern. And when you've had your fill, stop at the neighboring Centerville Café for a sweet treat! 
As you can see, restaurants continue to adapt, making every effort to create cozy and warm outdoor dining experiences allowing guests to enjoy the outdoors nearly any season of the year, while also providing diners with a safe environment.  
For a complete list of heated outdoor dining options in Greater Wilmington click here.