The Brandywine Festival of the Arts, Delaware's largest two-day outdoor cultural event, will return September 11-12 to Brandywine Park for its 60th anniversary year. Featuring around 200 artists in an array of media, including painting, pottery, sculpture, jewelry, woodworking, fabric and photography, the festival is a signature change-of-seasons activity, marking the transition from summer to fall in the park's Josephine Gardens, one of Wilmington's most scenic settings.  
Starting in 1961 as a one-day art event with two-dimensional art and a bull roast in downtown Wilmington, the festival has grown to earn recognition as one of the best in the region and one of the top 100 in the country. It regularly draws up to 15,000 visitors, with its children's activities, music, a food court and local food vendors, including beer and wine, plus pet adoption opportunities, providing more than just art for folks of all ages to enjoy. The festival is also pet-friendly, with leashed, well-behaved dogs always welcome.   
Participating artists span generations too. This year's featured artist, painter Sandy Askey-Adams, has been exhibiting at the festival for more than 20 years. At least 30 of this year's exhibitors are emerging artists – young professionals who are new to the festival or who have exhibited for fewer than three years, according to Barry Schlecker, proprietor of Barry's Events and producer of the festival since 2010.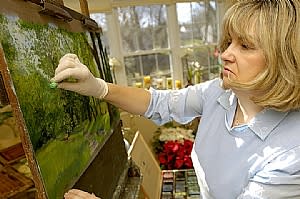 "The festival offers a great opportunity to fill your home – or your yard or your jewelry box – with a tremendous selection of original art," Schlecker says. "And our two-day admission policy means you can browse on Saturday and come back Sunday to make your final selections, all for one low price."  
Festival hours are 10 a.m. to 6 p.m. on Saturday, Sept. 11, and 10 a.m. to 4 p.m. on Sunday, Sept. 12. Admission is $5 for both days; children under 12 accompanied by an adult are admitted free. Dogs on leashes are always welcome. Parking will be available at Salesianum School and Abessinio Stadium, with shuttle buses transporting visitors to the festival grounds.  
For updates and more information, visit www.brandywinearts.com