Wilmington's Ladybug Festival is getting ready to hit the main stage for its eighth consecutive year! Gable Music Ventures initially created this powerful women-run festival as a simple block party for Wilmington residents highlighting local women in music. The festival has since developed into so much more as it has become a festival truly celebrating dynamic, unique and inspiring ladies. With its lineup bigger than ever, featuring 100 different artists, and tremendous growth in attendance, this Ladybug Festival is more like a Ladybug Extravaganza!
Get ready! This year's artists include…
Thursday, July 18th 5:00 – 10:00 p.m.
The Ladybugs of Soul – A tribute to Aretha, Tina, Whitney, Chaka & More! Jessica Latshaw, Angela Sheik, Aubrey Haddard, Melanie Brulée, SIRSY, Joy Ike, Jerzy Jung, Megan Knight, Victoria Watts, Hot Breakfast, Amanda Duncan, Dawn Hiatt, Bethlehem and Sad Patrick, Rad & Kell, Lisa and Lori Brigantino, You Do You, Katie Barbato, , Lefty the Greatest, Lisa Jeanette, Kate Mills, Heather Aubrey Lloyd& ilyAIMY, Alyssa Hankey, The Shakin' Shivers, Gabby Z, Eliza & the Organix, Alisabeth Von Presley, Noni Rene, Beth Arnold Gilbert, Almost June, Alex Allegra, Caitlin Marsilii, Kyra Camille, Jah, BlackSheepMixTape, Stacey Gabel, Madeleine Anderson, Chloe Rae, Hanna Paige, Nancy Huebner, Elaine Rasnake, Brianna Nelson, Tanqueray Hayward, and Angela Burns
Friday, July 19th 4:00 p.m. - 12:00 a.m.:
Nalani & Sarina, Hoochi Coochi, Ginger Coyle, Sweet Leda, Phoebe Legere, Andrea Nardello, THRILLCHASER, Stacia LaChole, Dentist, Eyebawl, Outcalls, Cecilia Grace, Frantastic Noise, Kayley Hill, Braxton Hicks, Katie Henry, Von Roz, Kirsten Thien, Wallace, Calla Bere & the Attitude, Briz & the Revival, Gill Henry, Big Fat Meanies, Kitty Mayo with Venom Blues, Alexis Borst, The Honey Badgers, Lights of the North, lylyly, Castle Black, Kiera Sankey, Badd Kitti, Pepperwine, Brianna Judge, Katherine Rondeau, Sharon Lia, Daniella Cotton, Sister Funk Trio, Jada Lee, Green Cathedral, Valendina, Zupang, Corn and the Husk, Julia Johnson, Uncle Valentine, Arielle Marie, Natalie Mishell, Raihanna Estrada, Dallas Remington, Kenna, Keren Abreu, Ashley Lehmann, Yaniza, Rachel Ana Dobken, 1 Identity, Trini, Fostina Dixon, and Baby Red
Gable Music is introducing a new venture taking place the second day of the festival. Take everything you know to be true about your typical bar crawl and enhance it with amazing, live, musical stops at 15 different locations throughout Downtown Wilmington. The crawl will begin on 11th Street at Tonic Bar and Grill and will end on Market Street at Chicky's Pizza Pub.
Some interesting stops along the way include:
DE.Co, Wilmington's newest Food Hall, Bardea Food and Drink, semifinalist for the James Beard Foundation National Award, and Farmer & the Cow, soon to be featured on Food Network's Diners, Drive-ins and Dives! The festivities don't stop there! Officially partnering with Stitch House Brewery (another stop along the route) and Mispillion, the festival is proud to announce their brand-new craft beer, Ladybug Rose Lager! Be sure to stop by and try it!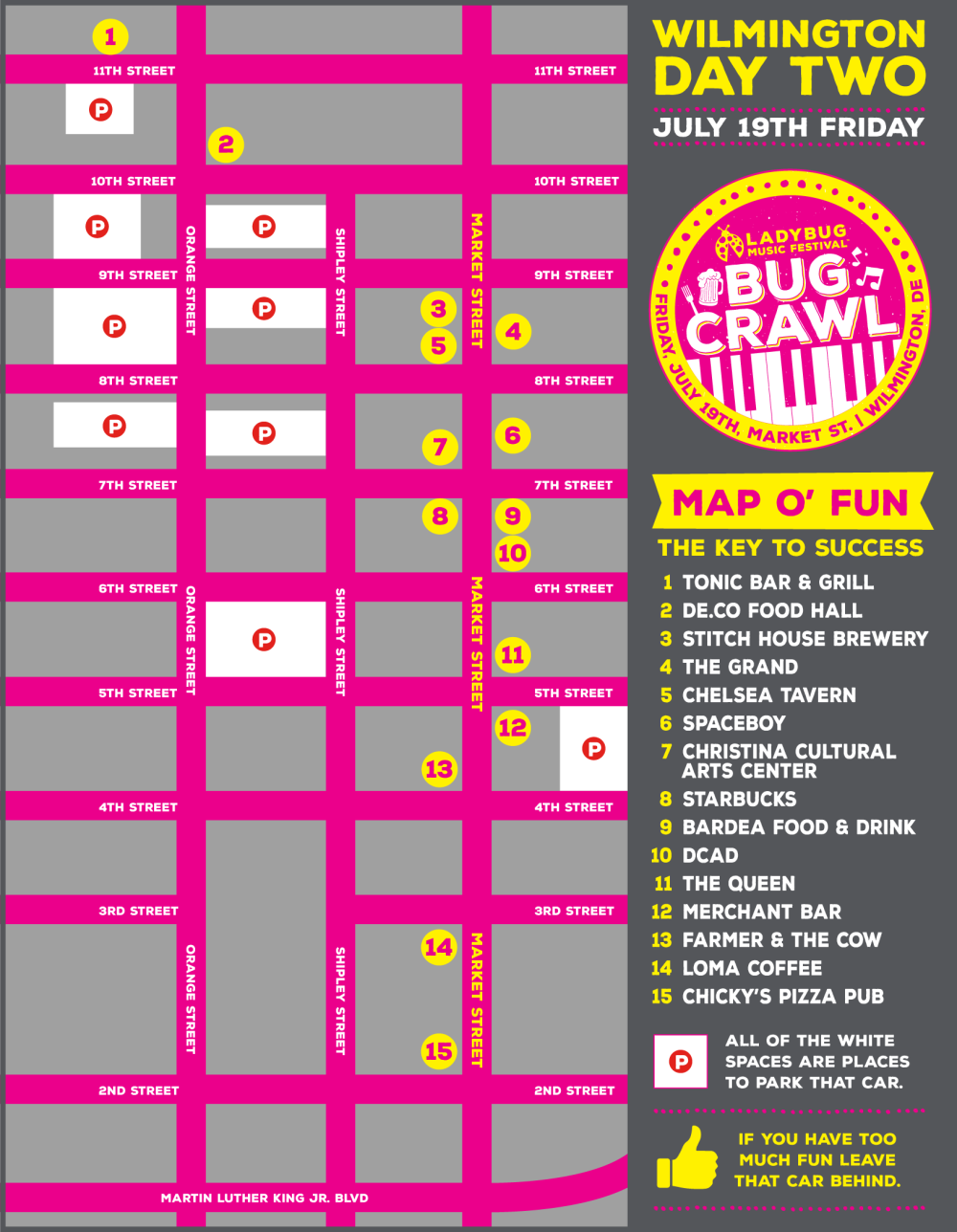 **Full Schedule Coming Soon!**
Still not convinced? Check out last year's fun!