Mother's Day is right around the corner. That's right, it is next Sunday, May 10. What do you have planned for that special lady in your life? What? No plans yet? Don't worry. Greater Wilmington and the Brandywine Valley has you covered!
You provide the flowers and the card. Our restaurants can take care of the rest. Here are some great specials and offerings from around the area that are sure to put a big smile on Mom's face:
Buckley's Tavern in Centreville has put together a delicious brunch bundle priced at just $12 per person. Treat the whole family to sticky bun French toast, pancakes, scrambled eggs, Quiche Lorraine, cheesy potato casserole, ham, bacon, and sausage. And don't forget the cocktails . . . Buckley's is serving up mimosas and Bloody Marys by the quart. If you want to make your own (or have the OJ on the side), choose the Cava and quart of orange juice option! All are available for curbside pick up or takeout. Click here for more details.
Does Mom love seafood? Treat her to a take-home dinner of lobster and shrimp through Café Verdi in Wilmington's Trolley Square district. The restaurant's special Mother's Day package includes four lobster tails with shrimp over a half tray of pasta with your choice of marinara or white wine sauce.  It also comes with a half tray of tossed salad, one large cheese pizza, four cannolis, and a loaf of bread, all for $124.99. What a sweet deal! Don't forget to pick up a bottle of house wine ($10) to wash down your Italian feast. Pre-order by May 7 by calling (302) 656-5411. Curbside pick up is also available. Just pull up between the flags in front of the restaurant, and give Café Verdi a call.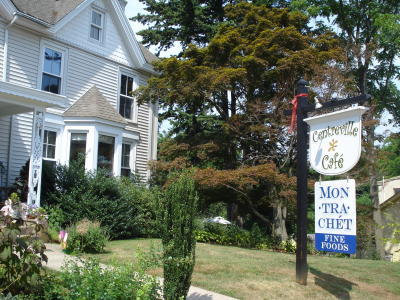 Is Mom, like the rest of us, feeling a little down and disappointed because she won't be able to get her steeplechase fix at Winterthur's Point-to-Point this year? And, of course, let's not forget the legendary tailgating.  Well, we have the second-best thing. Have Mom put on her favorite fancy hat and sundress and treat her to a "virtual" Point-to-Point tailgate brought to you by the Centreville Café in Centreville. Its special Mother's Day menu includes race day favorites such as steeplechase eggs, crepes with caramel apples, tea sandwiches, baby lamb chops, seared Ahi tuna, key lime pie, cherry pie, and more. Call (302) 777-4911 to place an order. All items can be picked up May 8, 9 and 10 anytime … they are open or by request.
Washington Street Ale House in downtown Wilmington is featuring a special Mother's Day Weekend menu (available Friday, Saturday and Sunday) in addition to its regularly available family style to-go meals. Appetizers include deep fried brussels sprouts, sweet corn & crab risotto, and spring pea soup. Mouthwatering main course selections include but are not limited to surf and turf, crab cakes, and herb crusted Scottish salmon. And be sure to save room for dessert! Pecan apple cobbler and peanut butter pie are just two of the delectable choices. All menu items are a la carte. Entrees serve four people. A to-go beer and wine menu is also available. Call ahead to order: (302) 658-2537. The restaurant is also offering a special Mother's Day e-gift card special (online orders only) – buy a $50 gift card and get an extra $10 free!
Does home schooling and working from home have Mom a little frazzled these days? Why not treat her to breakfast in bed? Drip Café in Hockessin is offering a special "Breakfast in Bed" continental breakfast option for $65 (serves six). If you really want to spoil her, don't forget to pick up a bottle of Prosecco ($15) so you can all enjoy Sunday morning mimosas in your PJs. This is in addition to a wider selection of tasty brunch and dinner options including smoked salmon quiche, buttermilk pancakes with strawberry jam and cream cheese swirl, garlic butter steak tips, and lemon parsley crab and tomato bake. And did we mention the Bloody Marys for two with celery, olives and pepper bacon? Call​ (302) 234-4430 to order.
If you order from Janssen's in Greenville, you don't even have to worry about flowers! A single cut rose comes along with their Mother's Day brunch package. They can also add on chocolates and custom gift baskets if you really want to wow her. For the meal, there are two options to choose from. If it's just you and the missus, choose brunch for two ($49). If you are feeding a crowd (six to eight people), choose the family-style brunch at $139. Both come with fresh-squeezed orange juice, fruit, quiche or scrambled eggs, bacon or sausage, home fries, and Janssen's delectable sticky buns or mini muffins. Place your to go order by calling (302) 654-9941 x3 (leave a message if there is no answer) or emailing catering@janssensmarket.com.
Hartefeld National in Avondale, Pennsylvania has put together a Mother's Day feast that serves four to six people with leftovers guaranteed! To start, it's peel and eat shrimp with cocktail sauce. The main course is turkey, salmon or beef brisket … whatever strikes her fancy. This to-go package also comes with plentiful sides: decadent lobster mac and cheese, garlic mashed potatoes, grilled asparagus with garlic parmesan, sugar snap peas with garlic, and rolls. We bet just reading this is making you hungry! But wait … we're not done yet. The meal also comes with dessert – either strawberry shortcake or banana pudding. Yum! All this for $155. Reserve today by email at Christine.manfredi@clubcorp.com or by calling (610) 268-8800. Click here for the deets …
Lettie's Kitchen in Hockessin, known for its hearty comfort food, is offering a special take out catering menu for Mother's Day. Call them at 302-239-7816 ,or click here to find out more.  If you are a fan of fried chicken, Lettie's cooks up some of the best around.
Timothy's of Newark is offering two different family-style brunch options and two dinner options in celebration of Mom. The brunches are each $36 and serve four people. Dinner options are baked ham ($15) and queen-cut prime rib ($18). Brunch main courses are French toast or pancakes and creamed chip beef. Both options come with sides including breakfast potatoes, fresh fruit and a variety of other yummy brunch favorites depending on which option you choose. Timothy's is also offering to-go cocktail packages for $20 …. mimosas, Bloody Marys, and screwdrivers. Half trays of assorted dishes – ranging from macaroni and cheese to hot turkey breast to mini crab cakes to deviled eggs – are also available. Click here for a full list of half trays and additional details. Pre order by calling 302-738-9915. Pick up on Mother's Day between 9 a.m. and 8 p.m.
The Inn at Montchanin Village & Spa in Montchanin is also doing Mother's Day brunch to go with curbside pickup as an option. Pre-order before 7:30 p.m. on Wednesday, May 6, 2020 to reserve your meal. Order Mom's favorites from the extensive menu the inn has put together to celebrate her special day. And it is a feast! To start, choose from shrimp cocktail, crab deviled eggs, jumbo lump crabmeat, and more. The inn's Krazy Kats restaurant has also put together a tempting selection of homemade soups, sandwiches and seasonal salads in addition to a full brunch menu. The strawberry marscapone French toast, jumbo lump crab cakes, sausage gravy & biscuits, and bacon-mushroom risotto look particularly yummy to us! Breakfast meat sides include scrapple, a Delaware staple. And don't forget about dessert. Treat Mom to a red velvet cupcake or, our personal favorite, creme brûlée. And what would Mother's Day brunch be without a celebratory cocktail or two? The Inn at Montchanin has you covered with fine wines, microbrews, and DIY mimosas. Do you really want to treat Mom? Then add in a gift card for a spa treatment, dinner out, or overnight stay for a later date.
Don't forget Mom on her special day! While you can't take her to brunch (or out to dinner), you can still bring the celebration to her. Whatever she desires, whether it is fine food or comfort dishes, it is just a phone call or an email away. Place your order today with one of these excellent restaurants in Greater Wilmington and the Brandywine Valley. Show Mom you appreciate her, take all the work out of the planning and preparation, and support the restaurant industry that is so vital to our economy . . . all at the same time.
Ned even more great Mother's Day takeout options, see our full list of local restaurants offering takeout, curbside and delivery.
And Happy Mother's Day to all the moms out there!