Easter Sunday (April 9) will be here before you know it! If you're looking for the perfect photo op, brunch and activity to keep the whole family entertained, Wilmington and the Brandywine Valley is your answer!  Fun for the whole family. These events do tend to fill up fast, so be sure to grab your tickets soon.  
Hop on down the Bunny Trail…
EASTER BUNNY EXPRESS 
The Easter Bunny is set to hop aboard the Wilmington & Western Railroad for a 1½-hour round-trip ride to Ashland. Make plans to enjoy a beautiful day out on the rails with the whole family. The bunny will be ready for his close-up, so don't forget your camera!  
Event dates: April 1st, 2nd, 7th and 8th  
Departure Times: 12:30 & 2:30 PM rides on each date 
*Reservations are highly recommended.  
EGG HUNT at AUBURN HEIGHTS 
Grab the family for an egg-cellent day out at the Marshall Steam Museum at Auburn Heights. Enjoy train rides, themed crafts, popcorn, and admission to the Marshall Steam Museum. Of course, we can't forget the Egg Hunt across the lawn of the mansion. We hear that crazy bunny will be stopping by for photos too!
Tickets are on sale now. *Pre-registration is required. 
Newark's Annual Egg Hunt
The annual Newark Egg Hunt is a springtime family tradition! Don't miss out on fun for all ages April 1st at White Clay Creek State Park. For all the details, visit The Newark Partnership's website. (Rain date: April 2nd at 2:00 p.m.)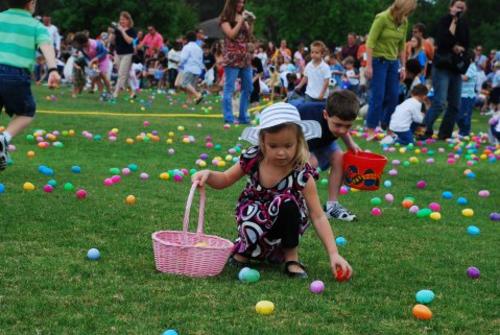 Hunt Schedule:  
Walking – 2 years     10:00 a.m. 
3 & 4 years old         10:00 a.m. 
5 & 6 years old         10:30 a.m. 
7 – 9 years old          10:30 a.m. 
Easter Parade in Historic New Castle 
Join the New Castle Hundred Lions on the Green in Historic New Castle Sunday, April 9th at 1:00 p.m. for an Easter parade! Candy, fun and prizes for all to enjoy.    
Easter Bunny Photo Op  
The Christiana Mall is bringing the Easter Bunny to Greater Wilmington. He'll be hopping around the mall through April 8th!  
Liquid Alchemy Easter Pairing   
For the 21+ crowd...  
Easter Weekend Dining…
SWEET EGGSCAPE & BREAKFAST – April 1st  
The Delaware Museum of Nature and Science is setting the mood for the Easter season on April 1 with two seatings for their sweet breakfast and museum event. Enjoy a classic pancake breakfast while you meet & greet with the Easter Bunny! Enjoy making themed crafts and exploring the museum with family and friends. This event books up quickly so make your reservations today.   
EASTER BRUNCH AT LE CAVALIER AT THE GREEN ROOM - April 9th  
Le Cavalier will be celebrating Easter with a lavish four-course, prix-fixe menu with the best of the season. Start with an array of sweet and savory pastries and breads. Choose from seven different starters including lavish items like steak tartare or oysters. Follow your appetizers with the entrée of your choice. There are over 14 items to choose from! End with a dessert to dream about. For the full menu and to make your reservations, click here.  
EASTER SUNDAY BUFFET BRUNCH AND DINNER AT HARRY'S SAVOY GRILL - April 9th  
A classic Greater Wilmington restaurant is taking your Easter meals to a new level. Whether you brunch with family and friends or take the day to enjoy and would rather grab dinner, Harry's Savoy has you covered. The brunch buffet will be in the ballroom from 10:00 a.m. to 3:00 p.m. with featured items like Classic Brioche Cinnamon French Toast and Harry's Award-Winning Prime Rib Au Jus. While dinner seatings will take place from 1:00 p.m. to 8:00 p.m. with a la carte decisions to make from Harry's extensive dinner menu.  
EASTER BRUNCH AT THE CHRISTIANA HILTON - April 9th  
It's time to put all your eggs in one basket at the Christiana Hilton's annual Easter Brunch buffet. From featured dishes like honey citrus salmon and blackberry BBQ short ribs to bananas foster cheesecake stuffed French toast, you'll be eating like a king or queen alongside family and friends. There are seatings from 11:00 a.m. to 4:00 p.m. (last seating is at 3:00 p.m.) Make your reservations today!   
EASTER BUFFET AT DEERFIELD - April 9th  
This year, Deerfield Is playing host to a buffet full of tasty treats. From the breakfast corner to the seafood station with entrees such as Caribbean Jerk Chicken and tri-color cheese tortellini mixed in, this buffet will leave you in a food coma. Reserve your spot today.  
EASTER SUNDAY BRUNCH AT PARK CAFE – April 9th  
Come one, come all to Park Café for an Easter Sunday Brunch like no other. Complete with an exquisite omelette station, a full carving station, pastries, desserts and more – this brunch is the place to enjoy time well spent with your crew. Book your seating now – 10:00 a.m., 12:00 p.m. and 2:00 p.m.  
Reservations are highly recommended for all events and dining options as Easter is a prime time to #VisitWilm. If you'd like to be featured on our social media, don't forget to snap those pictures and tag us using @visitwilmingtonde or #VisitWilm.