Easter (April 17) will be here before you know it! Plan to visit Greater Wilmington and the Brandywine Valley for the weekend and enjoy fun for all ages!  These events tend to fill up fast, so be sure to grab your tickets soon. 
Hop on down the Bunny Trail…
EASTER BUNNY EXPRESS 
The Easter Bunny is set to hop aboard the Wilmington & Western Railroad for a 1½-hour round-trip ride to Ashland. Make plans to enjoy a beautiful day out on the rails with the whole family. The bunny will be ready for his close-up, so don't forget your camera!  
Event dates: April 9th, 10th, 15th and 16th  
Departure Times: 12:30 & 2:30 PM rides on each date 
 *Reservations are highly recommended.  
EGG HUNT at AUBURN HEIGHTS 
Grab the family for an egg-cellent day out at the Marshall Steam Museum at Auburn Heights. Enjoy train rides, themed crafts, popcorn and admission to the Marshall Steam Museum. Of course, we can't forget the Egg Hunt across the lawn of the Mansion and that crazy bunny will be stopping by for photos too! Tickets are on sale now!
Newark's Annual Egg Hunt
The annual Newark Egg Hunt is a springtime family tradition! Don't miss out on fun for all ages April 9th at White Clay Creek State Park. For all the details visit – The Newark Partnership's website. (Rain date: April 10th)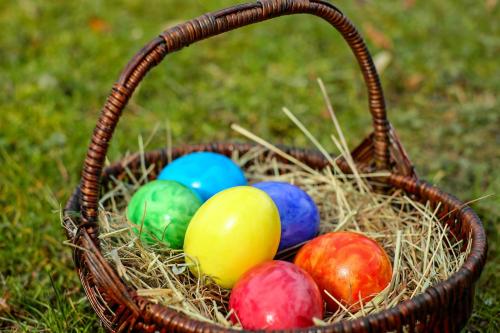 Hunt Schedule:  
Walking – 2 years    10:00 a.m. 
3 & 4 years old        10:00 a.m. 
5 & 6 years old        10:30 a.m. 
7 – 9 years old         10:30 a.m 
EGG FEST 2022 
Join Harp and Hare for a speggtacular event held at Battery Park in Wilmington. Raffles, giveaways and an egg hunt!  For all the details visit harpandhare.com  
Easter Weekend Dining…
Easter Brunch at Le Cavalier at the Green Room  
Inspired by the Green Room's tradition of all-day holiday brunch buffets, Le Cavalier will be celebrating with a lavish French spin. The Seafood Station will feature menu items such as oysters, lemon-caper drawn butter and shrimp cocktail, charcuterie, crudité, and so much more. Entrees include options like French onion frittata, Parisian ham, and French toast with all the fixings. An array of sweet and savory pastries rounds out the culinary extravaganza. A Bloody Mary + Mimosa Bar will also be available in addition to coffee and tea service. 
Easter Brunch and Duck Pin Bowling at Wilma's 
New to downtown Wilmington is the area's first ever duckpin bowling alley! The 100- year old once bank on Market Street has transformed into Wilma's, a full service bar and restaurant! With Southern and New Orleans inspired cuisine you can't go wrong for a unique Easter Brunch! A number of holiday special items will hop on their menu April 16th and 17th to celebrate the holiday!
Easter Brunch at the Christiana Hilton  
Easter Buffet at Deerfield  
This year, Deerfield Is playing host to a buffet full of tasty treats. From the breakfast corner to the seafood station with entrees such as Caribbean Jerk Chicken and Tri-color cheese tortellini mixed in, this buffet will truly leave you in a food coma to spend the rest of the day enjoying the treats the bunny left for you! Reserve your spot today - https://deerfieldgolfclub.com/events/ 
Reservations are highly recommended for all events and dining options.