The new year is here, and the Brandywine River Museum of Art has some big things in store for 2017. With their Brandywine Christmas exhibit wrapping up on January 8, the museum is looking ahead to two big exhibits it has planned for the upcoming year. 
The aforementioned big exhibits will pretty much be splitting the year in half with the first running from February to May and the second starting in June and running through September in order to finish up just in time for another Brandywine Christmas display.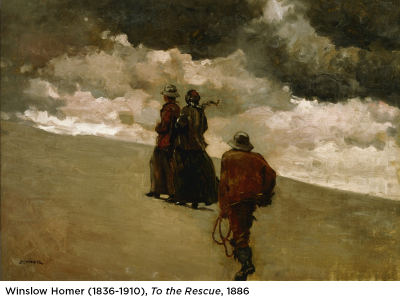 From Homer to Hopper: Experiment and Ingenuity in American Art
The first big exhibit of the year will be a tribute to a more modern style of American art that embraces artists like Winslow Homer, Stuart Davis, Arthur Dove, Thomas Eakins, Marsden Hartley, Childe Hassam, Jacob Lawrence, Georgia O'Keefe, Horace Pippin, Maurice Pendergast, John Sloan, and Edward Hopper. There will be a total of 54 paintings on display from these artists that were all created between 1870 and 1950. 
This classic American collection of paintings was assembled by The Phillips Collection, which was founded by Duncan Phillips in 1918 to promote the very best of the best American artists. It will open on February 25, 2017, and run through May 21, 2017.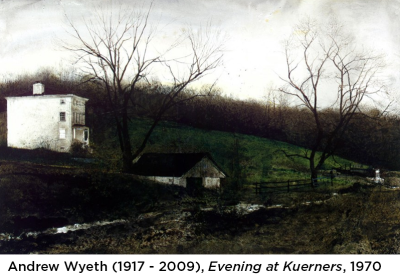 Andrew Wyeth: In Retrospect
While the From Homer to Hopper exhibit is going to be something to see, the biggest exhibit of the year is planned for the summer and will be completely dedicated to celebrating the 100th Anniversary of Andrew Wyeth's birth. Starting on June 24 and running through September 17, there will be more than 100 of Wyeth's finest paintings on display, selected from various museums and private collectors. 
The exhibit will be organized chronologically, so you will be able to see exactly how Wyeth evolved as an artist from the time he started his work back in the 1930s all the way up to his death in 2009. This is a great way to grasp exactly how Andrew evolved as an artist over the years and to see the subjects, including the beauty of the Brandywine Valley, that constantly inspired him throughout his entire life. 
As if the exhibit was not already interesting enough, this will be the first time that Wyeth's entire career has been represented to this degree. It will be a catalogue of his work through each decade of his life, and is expected to be a foundation for future studies into the significance of his work. 
Also Coming Soon to the Brandywine River Museum of Art
In addition to the two big exhibits planned for this year, the Brandywine River Museum of Art will also be hosting a number of other activities and events throughout the year. Some of the big ones that are already on the calendar include: 
50th Anniversary Gala on Saturday, April 29
Native Plant, Wildlife, and Seed Sale on May 13 and 14
Radnor Hunt Races - Racing for Open Space on Saturday, May 20
Antiques Show on May 27 through 29
Tip-A-Canoe & Barbecue, Too! On Saturday, July 22
A Brandywine Christmas on November 24, 2017 through January 7, 2018

As you can see, there is quite a lot happening at the Brandywine River Museum of Art in 2017. If you are the type of person who is passionate about art and always looking to learn, each of these upcoming exhibits and events should be marked on your calendar.
The Brandywine River Museum of Art is renowned for its holdings of the Wyeth family of artists, the Museum features galleries dedicated to the work of N.C. Wyeth, Andrew Wyeth and Jamie Wyeth. The Museum's outstanding Heritage Collection is a cross section of American art, with a special focus on artistic practice in the Brandywine valley. Nineteenth- and twentieth-century landscape paintings testify to the beauty which drew well-known artists to the area. Important portraits, still life paintings and notable holdings in American illustration add diversity and breadth to this unique collection.
Also read: Celebrating Andrew Wyeth by Theresa Medoff, Associate Editor, AAA World, AAA Mid-Atlantic