Opening on February 6, and running through April 10, 2022, the Brandywine River Museum of Art will present Wayne Thiebaud 100: Paintings, Prints, and Drawings. This new exhibition will highlight the full range of this iconic American artist's work made over 70 years. The exhibition features a spectacular selection of his paintings, watercolors and prints. Created on the occasion of Thiebaud's 100th birthday, the exhibition now also serves as a fitting tribute to his remarkable career following the artist's recent death on December 25, 2021.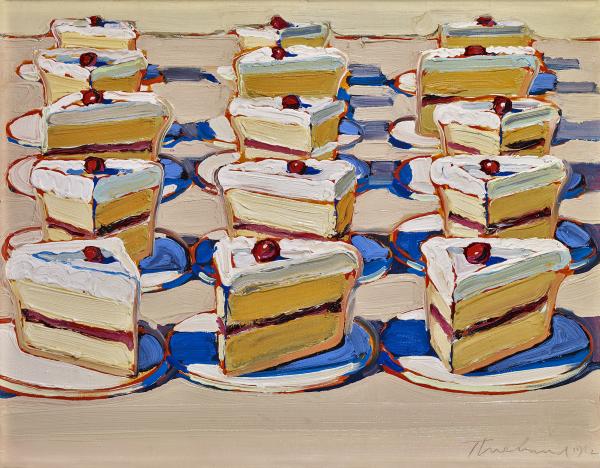 Earning both national and international recognition for his work, Thiebaud (1920-2021) first came to prominence in the early 1960s with a group of work depicting pies, cakes, ice cream cones and other sugary treats executed with thick, lusciously painted brush strokes. By the mid-1960s, Thiebaud was also creating beautifully realized figure paintings and landscapes, gaining increased attention in the 1970s for his dizzying interpretations of the San Francisco cityscape. Many of these same qualities are exemplified in a group of paintings the artist began in the mid-1990s of sweeping, bird's-eye portrayals of Sacramento-San Joaquin Delta scenes. Concluding with Thiebaud's return to the figure, the exhibition will also include the artist's newest body of work—circus clowns—revealing his extraordinary and expansive practice over seven decades.  
"Wayne Thiebaud was a towering figure in American art. As influential a teacher as he was an artist, Thiebaud developed a singular style with which he created a highly personal yet accessible body of work ranging from the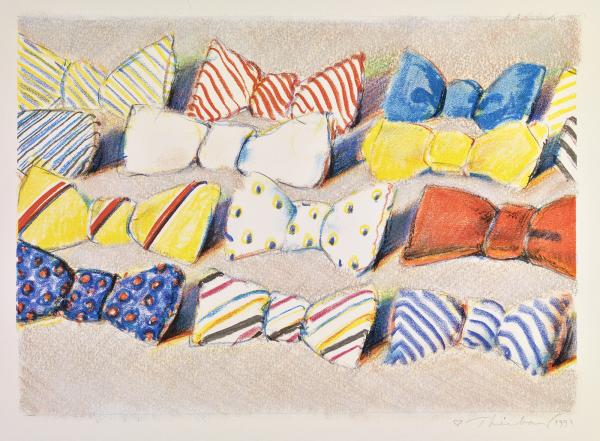 desserts for which he's best known—that subtly reference the country's consumerist culture—the vertiginous landscapes and cityscapes of his beloved California, and the figural paintings in which the artist isolates his subjects in blank settings almost like natural history specimens," said Thomas Padon, the James H. Duff Director of the Brandywine River Museum of Art. Spanning two floors of galleries in the Museum's historic Mill, this exhibition at the Brandywine will allow visitors, as Padon added, "to appreciate the totality of Wayne Thiebaud's artistic vision and the rich sensations he infused into all his work." 
The Brandywine River Museum of Art will be the fourth stop for this exhibition, which previously traveled to the Toledo Museum of Art in Ohio; the Dixon Gallery and Gardens in Memphis, TN; and the McNay Art Museum in San Antonio, TX. It will then be presented at the Crocker Art Museum in Sacramento, CA. The exhibition is accompanied by a richly illustrated catalogue chronicling the artist's visual journey and artistic influences, with fresh scholarship by Crocker Art Museum's Associate Director & Chief Curator Scott A. Shields; Julia Friedman, art writer and curator; Margaretta M. Lovell, Jay D. McEvoy Chair and Professor of the History of American Art, University of California, Berkeley; and Hearne Pardee, Professor of Art, University of California, Davis. Mary Okin, Ph.D. candidate, University of California, Santa Barbara, contributed a chronology. 
Learn more about the Brandwine River Musuem of Art here.