Brandywine Christmas at the Brandywine River Museum of Art offers visitors of all ages a spectacular holiday experience including a gallery filled with an expansive model train display, towering holiday trees decorated for the season with Critter ornaments, and a wide selection of holiday events and programs the whole family can enjoy.
Brandywine Railroad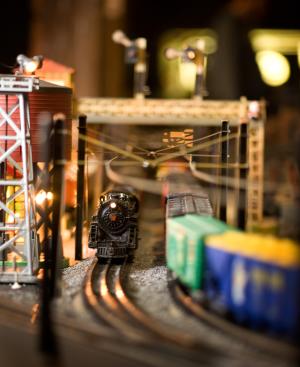 The Brandywine River Museum of Art's model train display, a holiday family favorite since 1972, offers something for everyone with its dazzling array of both toy and scale model trains made by Lionel, Williams, Atlas, Mike's Train House, K-line, and others. With more than 1,000 pieces—including locomotives, passenger and freight trains, and trolleys, all moving along 2,000 feet of track—the annual Brandywine Railroad holiday exhibition is one of the largest modular model railroad installations in the world.
Critter Ornaments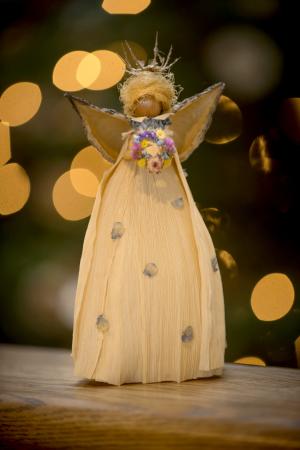 Critters are delightful, distinctive ornaments and tabletop decorations that are handmade using natural materials. Each Critter has its own unique personality and expression—no two are exactly the same. From whimsical animals—like cats, dogs, reindeer, and bears—to heavenly angels and stars, Critters come in all shapes and sizes. Using their imaginations, the Critter-maker volunteers work with natural materials such as pine cones, acorns, egg shells, flowers and seed pods to give each Critter its own unique personality and expression. Brandywine volunteers have been creating Critters for more than 40 years, with all proceeds benefiting the Volunteers' Art Purchase Fund and Art Education & Programming. The annual public Critter Sale starts on Thursday, November 30 from 5 to 9 p.m. and continues on December 1, 2, and 3 from 9:30 a.m. to 5 p.m. Critters will also be available for sale in the Museum gift shop beginning Monday, December 4, 2017 ¬through Sunday, January 7, 2018, while supplies last.
Special holiday events and activities throughout the season include:
Carols Concerts
Sundays, November 26, December 3, 10, 17 and 31, 1 to 3 p.m.
Listen to international opera singer Peter Campbell, accompanied by pianist Matthew Jewell. Included with Museum admission.
The Polar Express Read-Aloud Pajama Night family program
Thursday, November 30; 7 to 8 p.m.
Children are invited to wear their pajamas as they delight in the tale of The Polar Express and enjoy hot chocolate and cookies. Tickets are limited. $15 adults, $8 children; $6 per person, members; includes Museum admission.
Annual Children's Christmas Party
Wednesday, December 6; 6 to 8 p.m.
Enjoy magic and wonder during this beloved Brandywine family tradition! Visit with Santa and Mrs. Claus and enjoy entertainment, costumed characters, face painting, model trains, antique dolls, trees adorned with hundreds of "Critter" ornaments, and Cookie Land! $15, non-member adults; $5, non-member children ages 3-11; $12, member adults; free for member children and children under age 3.
Breakfast with the Trains
Saturdays, December 9 and 16, 8:30 to 10 a.m.
All Aboard! Join us for an exclusive, behind-the-scenes visit with the Brandywine Railroad. Discover how the extensive layout—one of the world's largest—is created and the complicated multitasking it takes to keep everything running. This before-hours event includes a private tour of the trains in action with Brandywine Railroad engineers, including special activities for the youngest train fans and a continental breakfast in the Museum's Millstone Café. Children will receive a Brandywine Railroad souvenir; ages 3 and older accompanied by an adult are welcome. $20 members; $25, non-members
A 19th Century Christmastide
Saturday, December 9, 11 a.m. and 1 p.m.
Sing along as Rick Spencer presents familiar Christmas tunes from the Victorian age such as "God Bless Ye Merry Gentlemen" and "Here we come A-Wassailing." Folksinger and composer Rick Spencer is known internationally for his performances of music in the American folk tradition. Included with Museum admission.
Music of Ann Wyeth McCoy
Tuesday, December 12, 2 to 3 p.m.
Donna M. Beech performs selections of Ann Wyeth McCoy's music on the piano. Included with museum admission.
PECO Sensory-Friendly Train Morning
Saturday, January 6, 2018, 8:30 to 9:30 a.m.
Enjoy early access to the Museum's Brandywine Railroad display during this accessible program designed for visitors on the autism spectrum or with sensory processing disorders. Space is limited, and registration is required. Complimentary Museum admission.
Terrific Trains family program
Saturday, January 6, 2018, 10 a.m. to noon
See the amazing Brandywine Railroad and create a colorful train to display at home. Included with Museum admission.
The Brandywine River Museum of Art features an outstanding collection of American art housed in a 19th-century mill building with a dramatic steel and glass addition overlooking the banks of the Brandywine. The Museum is open daily from 9:30 a.m. to 5 p.m. (except Thanksgiving Day and Christmas Day), and is located on Route 1 in Chadds Ford, PA, just minutes from the Delaware border. Admission is $18 for adults, $15 for seniors ages 65 and over, $6 for students and children ages 6 and up; free for children 5 and younger and Brandywine Conservancy & Museum of Art members. For more information, call 610.388.2700 or visit brandywinemuseum.org.