The magic of the holiday season returns to the Brandywine River Museum of Art during Brandywine Christmas, November 29, 2019, through January 5, 2020. This spectacular holiday experience for all ages includes a gallery filled with an expansive model train display; a special exhibition featuring a selection of three beloved fairy tales and their evolution through time and different cultures; towering trees decorated with whimsical Critter ornaments; and a wide selection of holiday events and programs for the whole family.  
Cinderella & Co.—Three Fairy Tales Reimagined
On view through Sunday, January 5, 2020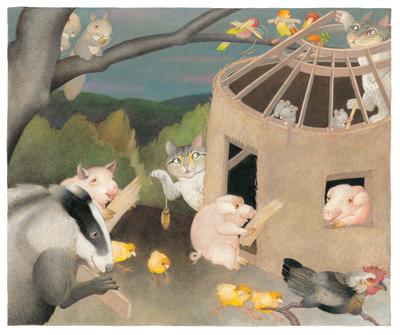 Cinderella & Co.—Three Fairy Tales Reimagined explores the enduring stories of Cinderella, The Three Little Pigs and Goldilocks and the Three Bears, presenting a wide array of illustrations created through time and across cultures. For centuries, fairy tales have enchanted children and adults alike. These age-old stories endlessly told and reimagined over time and place, spark our imaginations, teach life lessons, and touch on dark fears and basic truths. Guest curated by H. Nichols B. Clark and organized by the Brandywine, the exhibition includes more than 100 drawings from books illustrated by 35 artists, revealing both cultural and stylistic diversity.
Brandywine Railroad
On view: Black Friday, November 29, 2019, through Sunday, January 5, 2020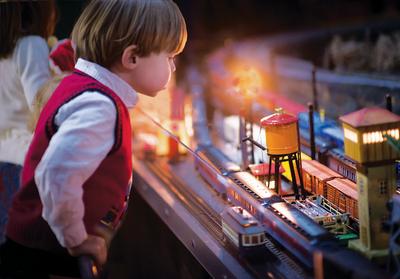 The Brandywine River Museum of Art's model train display, a holiday family favorite since 1972, offers something for everyone with its dazzling array of both toy and scale model trains made by Lionel, Williams, Atlas, Mike's Train House, K-line and others. The Brandywine Railroad features trains running on 2,000 feet of track and includes more than 1,000 pieces, including locomotives, passenger and freight trains, and trolleys that pass through a small town, a farm, factories, and even a carnival. 
Special Museum Events for the Holiday Season
Annual Holiday Critter Sale
Thursday, December 5, 4:30-8 p.m.
Friday, December 6 through Sunday, December 8, 9:30 a.m.-4:30 p.m.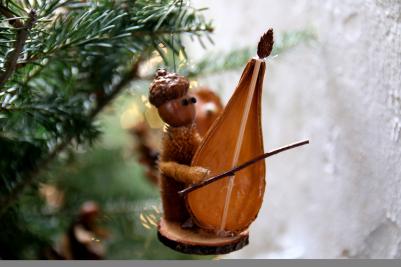 Critters are delightful, distinctive ornaments and tabletop decorations that are handmade locally using natural materials. Each Critter has its own unique personality and expression—no two are exactly the same. From whimsical animals—like cats, dogs, reindeer, and bears—to heavenly angels and stars, Critters come in all shapes and sizes. Using their imaginations, the Critter-maker volunteers work with natural materials such as pine cones, acorns, eggshells, flowers, and seed pods to give each Critter its own unique personality and expression. Brandywine volunteers have been creating Critters for more than 40 years with all proceeds benefiting the Volunteers' Art Purchase Fund and Art Education & Programming. Critter prices range from $5 to $35, with specialty items from $50 to $250. Remaining critters will be on sale in the Museum gift shop beginning Monday, December 9, while supplies last.
The Brandywine River Museum of Art features an outstanding collection of American art housed in a 19th-century mill building with a dramatic steel and glass addition overlooking the banks of the Brandywine. Known for its holdings of the Wyeth family of artists, the Museum contains the largest collection of N. C. Wyeth's artwork and features galleries dedicated to the work of N. C. Wyeth, Andrew Wyeth, and Jamie Wyeth. The Museum's outstanding Heritage Collection presents a cross-section of American art with a special focus on artistic practice in the Brandywine Valley.
The Museum is open daily from 9:30 a.m. to 4:30 p.m. (except Thanksgiving Day and Christmas Day), and is located on Route 1 in Chadds Ford, PA. Admission is $18 for adults, $15 for seniors ages 65 and over, $6 for students and children ages 6 and up; free for children 5 and younger and Brandywine Conservancy & Museum of Art members. Guided tours of the N. C. Wyeth House & Studio, Andrew Wyeth Studio, and Kuerner Farm—all National Historic Landmarks—are available daily (for an additional fee) from April 4 through November 18; advance reservations are recommended. For more information, call 610.388.2700 or visit brandywine.org/museum. The Museum is one of the two programs of the Brandywine Conservancy & Museum of Art.