February 12th…
A heartfelt Hallmark Card with a poem you didn't read, and a box of heart-shaped chocolates are in your hands.  You look down and think…"Is this the same card I gave last year?"
We know, that you know, we're right! There's nothing wrong with tradition but let's be honest, it's the safe choice. Choose to live a little differently this year. Think outside of stereotypical gifts for your partner.
#VisitWilm and give them an EXPERIENCE they'll never forget.
February 14th A Valentine's Night in Wilmington…
Your partner gets home expecting to see your card on the kitchen table… They think to themselves, "Did they forget again this year?"
"No, I didn't forget." You say. "Grab your coat!"
A smile takes over and a puzzled look appears on their face. A car pulls up and you hop in, they look at you and ask, "Where are we going?" You just smile.
Pulling up to Domaine Hudson you realize your quick thinking a few days ago about making reservations came in handy. A special Valentine's Day menu... there's no telling how long you would have had to wait to be seated. Everybody wants in at this cozy and romantic restaurant on Valentine's Day. And it helps that they have one of the best wine lists in the greater Philadelphia region. Clinking glasses, your partner looks at you with that first date giddy grin, and as that last bite of dessert kisses their lips you can't help but think, "they think this is it."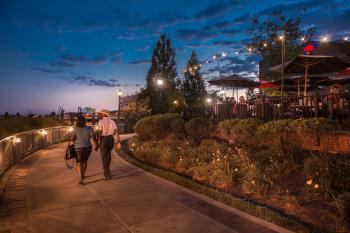 You walk just a few short blocks and stumble upon Tonic Bar and Grille, strolling up as their live music is just getting underway. You drink, you dance, you laugh, you love.  Your partner sees the car pull up and wonders, "is this the end?" With a sly look on your face you hop in the car again and head just down the road to Wilmington's Riverfront.  As you take a romantic stroll along the path and take in the gorgeous view, your partner says… "I don't want this night to end just yet."
 "Good, because we have one last stop." The car takes you a little way down route 82 and you come to a stop at the Inn at Whitewing Farm.  This 1700s farmhouse is your home for the evening.  "I didn't want to go home either," you say. You go to your room, overnight bags already unpacked, and sit by the gorgeous fireplace. Your partner hands you a card with a poem in it and some heart-shaped chocolates and says… "Next year, I'll step up my game."
February 15th...
You both call out of work.
Whether it's for one night OR whether it turns into a weekend getaway (wink, wink), we have what you need to set up your Valentine's adventure. Take a look around Wilmington and the Brandywine Valley and explore the endless possibilities - request your free visitors guide today.
We give you all the options … The rest is up to you!