Fall in love with Wilmington and the Brandywine Valley this season! It's time to put those stored up vacation days to good use and "get away to it all." Venture out into the Greater Wilmington area for an eventful, gorgeous season, filled with things to do around every corner. October is the month of pumpkins, hayrides and foliage. Check out our guide to this month's events and more.
O – One November Yankee
Explore a little bit of Hollywood right here in downtown Wilmington! Delaware Theatre Company hosts, One November Yankee, starring Harry Hamlin and Stefanie Powers. One plane. Two actors. Three interwoven stories bound to leave the audience captivated. Get your tickets while they last.
C – Corn Maze & Fall Fun
Ramsey's Farm is filled with traditional fall farm fun this season! (Try saying that 10 times fast!) Bring the whole family along for an awesome day of picking pumpkins, hayrides and the corn maze. Don't get lost, the maze can be tricky!
The country's largest and oldest charitable gift show held at Winterthur Museum, takes place October 24-26. Featuring  30 exhibitors with gifts for all; it's a no brainer to join in on the tax-free shopping fun!
O - Other Spaces
Art seems to always have a way of making you think outside the box. The Delaware Contemporary, located in Wilmington's Riverfront neighborhood, will be featuring their Other Spaces exhibit to do just that! Artists, Chris Andricola and Jake Foster, have teamed up to transform the space with objects and props to critique modern life. Explore various ways the media disconnects social ties. Plan your visit today!
B – Boo at the Zoo!
Trick-Or-Treat. Smell our… Animals? Put on your best costumes, grab your treat bags and head over to the Brandywine Zoo for three fun-filled days of Trick-Or-Treating! Visit October 17-19 for this merry NOT SCARY event!
E – Everyone is Italian at the...
The Wilmington & Western Railroad is waiting for you to hop on board to chug along through the beautiful foliage of Greater Wilmington. Join in the fun with seasonal events going on throughout the month! We highly suggest making your reservations soon… tickets will go fast!
October's Featured Events: Autumn's Colors and Chrysanthemum Festival at Longwood Gardens
October's Bonus Event: Wicked Wyeth Walk
Want to hear a spooky story? The Brandywine River Museum of Art is the place to be for spooky tales from the past – along with some  awesome snacks to go  with it. (We hear there may be s'mores! – Grab one for us!)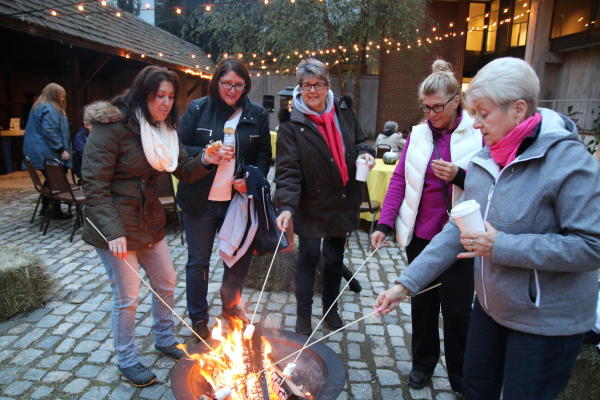 October is one of the best months to get out and explore! Beautiful weather, gorgeous scenery and amazing events almost every day! What more could you ask for? We are so excited to have you visit Wilmington and the Brandywine Valley this month! Don't forget to tag us in your fall fun using our hashtag #VisitWilm!