Like it or not, the holiday season will soon be upon us and Wilmington & the Brandywine Valley are ready to celebrate. The area is known to play host to numerous events, activities and attractions filled with holiday spirit. For those who have not experienced Greater Wilmington's holiday magic, here's a quick look at five not-to-miss holiday adventures that await just minutes off Interstate 95.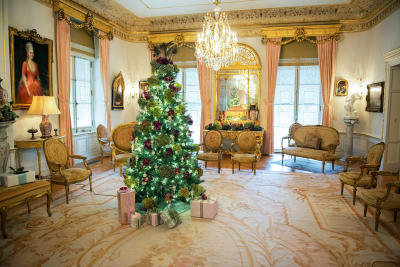 Wilmington's own version of the French "Versailles", Nemours Estate, is an original du Pont mansion Alfred I. du Pont gifted to his lovely wife. Today it remains a 3,000-acre French inspired formal garden, reputedly known as the largest of its kind in North America. Each year the estate celebrates the holiday season with a blend of authentic period decorations mixed with modern design, multiple Christmas trees, garland, wreaths and so much more.  Nemours Estate puts on its holiday best starting November 16th.  Learn More.
2. Yuletide at Winterthur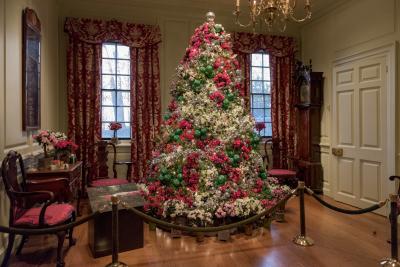 This 175-room estate set in the rolling hills of the Brandywine Valley is another example of the du Pont family's legacy in Wilmington.  During Yuletide at Winterthur, the premier museum of American decorative arts will tell a story of how the du Pont family and Americans across the country celebrated the holiday season throughout history. Sparkling trees, a visit from an actual member of the Dickens family, and an incredible dollhouse display is just the tip of what the holiday season will hold at Winterthur. If you've never been, don't miss the iconic Dried Flower Tree in the greenhouse, a tradition standing proud since 1985. Winterthur's wonderland through the ages will begin November 23rd.  Learn More. 
Make it a Weekend Getaway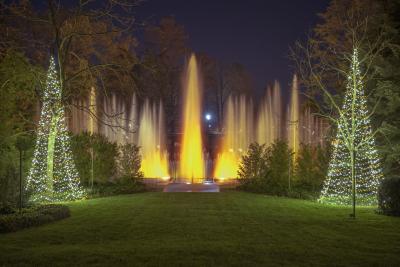 Longwood Gardens, the Brandywine Valley's renowned botanical garden celebrates the season with their annual A Longwood Christmas display beginning November 22nd.  This year Longwood celebrates the many shapes of the season in a display that is both nostalgic and inventive.  Visit the 4-arce Conservatory for its grand display of decorated trees, hundreds of poinsettia, indoor fountains, horticultural displays and holiday sign along to the 10,010 pipe Aeolian organ.  Outside more than 500,000 sparkling lights bring cheer while carolers stroll, a toy train display delights the children and plenty of hot chocolate flows. Timed entry tickets are required, learn more here.  Learn More. 
Click and hold the image above to spin through a virtual display of "A Longwood Christmas."
Note: This view represents previous years and may not reflect the current display.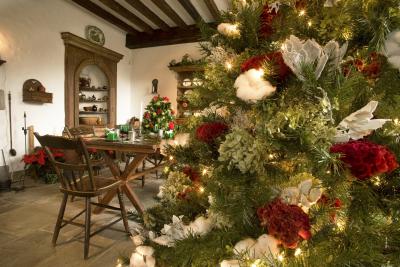 Hagley Museum is home to 235-acres of beautiful landscape featuring the du Pont family's first U.S. home and the original powder mills, which made the family a household name. During the holiday season, the renowned home is transformed to celebrate and honor the French holiday traditions the famous Wilmington family would have enjoyed during their days in France. Holidays at Hagley focuses on family and provides insight into the traditions of a holiday at home. The beautiful transformation begins November 23rd.  Learn More. 
5. A Brandywine Christmas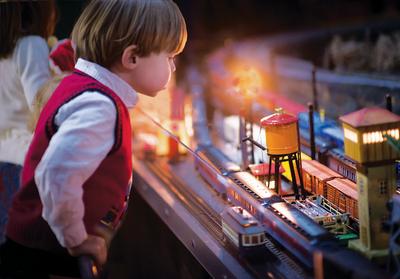 The Brandywine River Museum of Art located on the banks of the Brandywine River, fills with holiday cheer beginning November 29th. The museum, known for its renowned work by three generations of Wyeth artists, celebrates the season with trees of all sizes gorgeously decorated with hand-made ornaments by volunteer staff. But the centerpiece of A Brandywine Christmas is the remarkable Brandywine Railroad O-gauge model train and its nearly 2,000 feet of track wrapped around a miniature town alight with holiday magic.   Don't miss this magical holiday adventure for all ages!  Learn More.
The holidays wouldn't be complete without the mention of Holidays in Odessa one of Greater Wilmington's finest seasonal attractions. Beginning November 19th visitors can step back into Colonial times for candlelit tours, seasonal interpretations from classic literature, and recreated historic recipes offering the sweet smells of the season.
Start Planning a Visit Today!