As winter's grip loosens, it's time to stow away the parkas and snow shovels and have some fun! Whether you're planning a summer getaway with old friends or a relaxing escape while the kids are at camp, the Brandywine Valley will rejuvenate you. Renowned for its cultural attractions, glorious gardens, elegant mansions, and superb museums, the Brandywine Valley offers a trove of new delights this year. Best of all, the 12 must-visit destinations discussed below can all be visited at discounted prices when you purchase a Brandywine Treasure Trail Passport.
1. Winterthur Museum, Garden, and Library
Founded by Henry Francis du Pont, Winterthur's premier collection of American antiques reflects both early America and the du Pont family's life at this exquisite estate. Enjoy tours of the 175-room house, an incredible 60-acre naturalistic garden, special exhibitions, shopping, and dining. Beginning April 1 Winterthur opens its first outdoor exhibit: "Follies: Architectural Whimsy in the Garden."  Follies are structures placed throughout a garden or landscape, designed to amuse or intrigue passerby. Henry Francis DuPont was familiar with follies from his travels across the U.S. and Europe and used them in his own gardens. During the exhibit, guest are invited to explore the gardens and locate 13 follies, seven recently added for the exhibit and another six as placed by Mr. du Pont throughout the years.
Located in Kennett Square, Pennsylvania, Longwood Gardens easily belongs in the pantheon of America's greatest gardens. It features breathtaking horticulture displays, majestic fountains, and stellar performances. The 2018 season promises to be something special, thanks the recent grand return of Longwood's Main Fountain Garden, following a two-year, $90 million revitalization. This magnificent display rivals any on Earth with its beauty and ingenious application of leading-edge technologies and design. Fountain shows run daily starting May 7, 2018 with evening shows added on Thursdays, Fridays and Saturdays during the summer season's extended hours.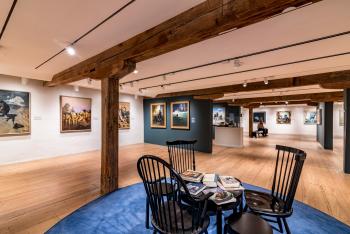 3. Brandywine River Museum
of Art
Just a few miles outside of Wilmington, through the rolling hills, Brandywine River Museum of Art is home to an outstanding collection of American art. The former 19th-century mill now includes a modern steel and glass addition overlooking the banks of the Brandywine River. Renowned for its holdings of the Wyeth family of artists, the museum features galleries dedicated to the work of N.C., Andrew and Jamie Wyeth. Running through July 8, 2018 the Brandywine River Museum of Art features the exhibit "Southwestern Son: The Lithographs of Peter Hurd." Starting June 23 and overlapping the Peter Hurd exhibit is "Natural Wonders: The Sublime in Contemporary Art" which will showcase the work of a dozen major American artists who engage nature in all its fierce magnificence.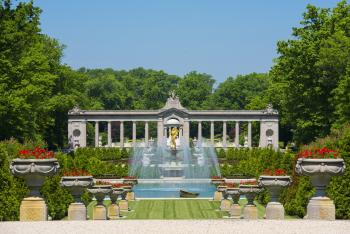 4. Nemours Estate
Modeled after Versailles, the regal Nemours Mansion is the former home of Alfred I. du Pont and his second wife, Alicia. The gardens draw from the stunning work of French sculptors Prosper Lecourtier and Henri Crenier, and experts consider Nemours to be the finest French-style gardens in America. Exciting news for spring and summer visitors this year: the caretakers for this storied property just thrown out the rulebook and decided to allow visitors unprecedented access to the grounds of this 300-acre estate including the Nemours Mansion, gardens and grounds and chauffeur's garage. Visitors to Nemours Estate can self-pace and self-guide while garnering information about the property from trained interpretive docents.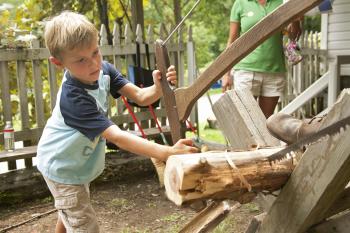 5. Hagley Museum
Located on 235 acres along the banks of the Brandywine River, Hagley Museum and Library is the site of the original gunpowder works founded by E.I. du Pont in 1802, later to be known as the DuPont Company or simply DuPont. This shining example of early American industry features many options for visitors including the du Pont family's ancestral home and garden, a visitor center with exhibits that feature the DuPont Company's science and discovery, a powder yard featuring gun powder demonstrations, a restored workers community and the largest private patent model collection in the United States.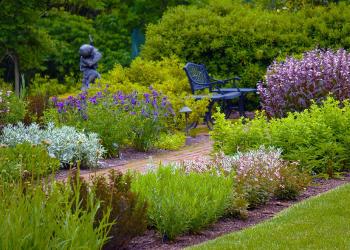 6. Mt. Cuba Center
Featuring tranquil ponds, a scenic meadow, and historic formal gardens, Mt. Cuba Center has been a home for conservation and preservation since the 1930s. Sit back and admire trees along the Dogwood Path and discover the inspiring beauty of native plants at this botanical garden. Or head to the South Garden to lose yourself in a marvelously engineered display that pays homage to the rich color palette of all four seasons.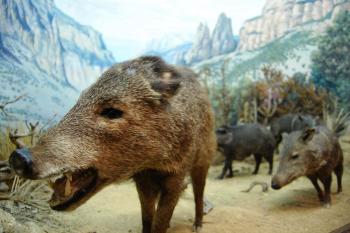 7. Delaware Museum of Natural History
The Brandywine Valley offers more than just pastoral gems. Why not also immerse yourself in the wonders of the natural world at The Delaware Museum of Natural History? Experience an African watering hole, view a giant squid, and encounter a jaguar face-to-face. Gallery highlights also include the only permanent dinosaur collection in Delaware, a simulated coral reef, a Science in Action paleontology lab, and touring national exhibitions. The kids, if you thought to bring them on your getaway — no obligation, of course! — will love it.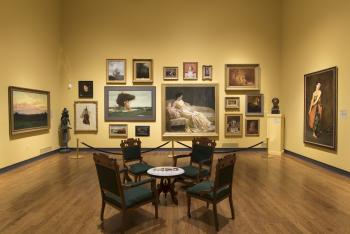 8. Delaware Art Museum
Founded in 1912 in memory of artist Howard Pyle, the Delaware Art Museum is best known for its large collection of British Pre-Raphaelite art, illustrations by Howard Pyle, and urban landscapes by John Sloan. Don't miss the outdoor sculpture gardens for some attention-grabbing three-dimensional pieces! Currently on display is the complete set of nine mural panels painted by Howard Pyle (1853 – 1911) for the drawing room of his home at 907 Delaware Avenue, Wilmington, Delaware. And, through September 2, 2018 the Delaware Art Museum spotlights the work of Black artists in a gallery dedicated to modern art. The paintings, prints, and sculptures on view celebrate the rich legacy of African American modernism between the 1920s and the 1970s. Alongside two of Jacob Lawrence's prints, the installation features favorites by Romare Bearden, Aaron Douglas, Norman Lewis, and Edward Loper, Sr., as well as recently acquired examples by Humbert Howard, Malvin Gray Johnson, Robert Neal, and Beulah Ecton Woodard. These pieces were created by artists working from Wilmington to Los Angeles and were collected by the Museum between 1937 and 2017.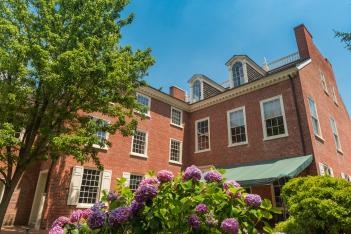 9. Read House & Gardens
Located in Historic New Castle, second only to Williamsburg, VA in the number of authentic Colonial-style buildings, this twenty-two room Federal mansion is surrounded by one-and-a-half acres of formal gardens. Seasonal adornments make the house an enchanting place to visit year-round. Check out the museum gift shop, which specializes in Delaware gifts, souvenirs, and nostalgic toys. And before you rush off, consider spending the whole day immersing yourself in the town—a National Historic Landmark district with ties to William Penn himself. Tour the cobblestone streets, the town green, Jessops Tavern, a local Tippling House or two, the Court House Museum and New Castle Presbyterian Church.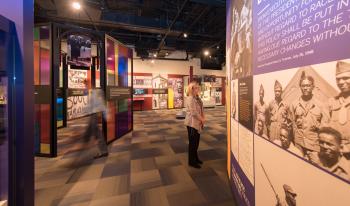 10. Delaware History Museum and Center for African American Heritage
The Delaware History Museum, which was once a Woolworth's Department Store in downtown Wilmington, has evolved into one of the most fascinating educational attractions in all of Delaware; newly renovated, it now houses the Jane and Littleton Mitchell Center for African American Heritage. The Mitchell Center for African American Heritage aims to collect, preserve, research, and present the history and heritage of Delaware's African American community. The Delaware History portion of the museum features permanent and changing exhibits highlighting Delaware's history and artistic achievements.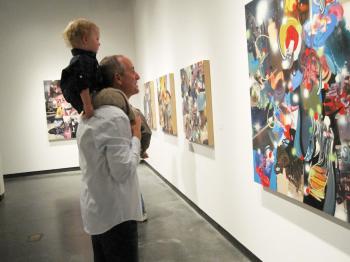 11. The Delaware Contemporary
The Delaware Contemporary is a dynamic gathering place for the exploration of new ideas at the intersection of art, design, and technology. Located on the Wilmington Riverfront, each year, the museum presents 30 exhibitions of regionally, nationally, and internationally recognized artists. Opening April 1, 2018 and running through August 26, The Delaware Contemporary presents "The Figure: The Indicative and the Allusive", an exhibition of twenty-two contemporary American artists offering new perspectives on the enduring power of the human figure in a transient world. Asking "what does it mean to be human?" this exhibition explores vast methods of expression through realism, abstraction, and symbolism.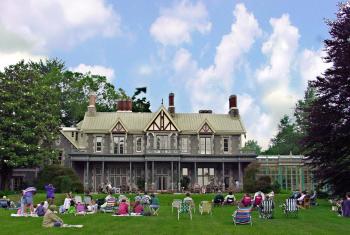 12. Rockwood Museum and Park
Listed on the National Register of Historic Places, this Rural Gothic mansion transports you to an earlier era through the Bringhurst family's 20th century furnishings and photographs. Not to be missed, the Delaware Shakespeare Festival's performance is held each summer in Rockwood Park as the mansion stands in the background. Audience members sit on blankets or lawn chairs and eat a picnic meal before the performance, and then watch as the actors bring the Bard to life. The 2018 Delaware Shakespeare Festival runs July 13 to 29, with performances of "Much Ado About Nothing."
Whether you're a nature lover, art aficionado, or history buff, you'll find plenty to love about Wilmington and the Brandywine Valley. Purchase your Brandywine Treasure Trail Passport and plan your visit today!